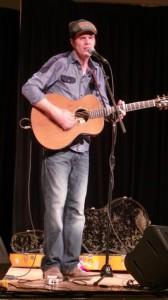 Dave Gunning
One of the luxuries I have as a festivals and events blogger is that I get the opportunity to see hundreds of performances a year.  In the past 12 months two of the best concerts I've had the pleasure of attending were at the Joshua Bates Centre in Athens, Ontario.  First was the incredibly talented Brett Kissel who kicked off the venue's season back in September and the second was last night with Dave Gunning who put the cap on the season.  Both artists have had incredible years, naturally Brett with his multiple number 1 hits and a JUNO Award and Dave who won not one but two East Coast Music Awards as well as First Place in the Great American Song Contest for "These Hands" a song that he wrote with George Canyon and his song "A Game Going On" won the CBC Music and Hockey Night in Canada's Song Quest.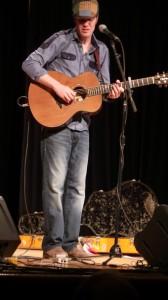 Dave Gunning
If you've never been to the Joshua Bates Centre in Athens and live in eastern Ontario put it on your to do list.  You likely won't find a more intimate venue to sit and listen to some of the finest music this country has to offer.  Artists from coast to coast are drawn to the venue, some even calling it a good luck charm (Brett Kissel calls it his good luck charm and when he performed in September was notified earlier that same day that his video for "Started with A Song" went to #1 on CMT).
For songwriters there's usually a story behind every song, something that inspired the artist write it. In Athens last night we had the luxury of having more than a talented musician, we had a storyteller on the stage.  For over two hours Dave took us on a journey that covered all of Canada.  Stories that came out of his travels such as "Saltwater Hearts" a song inspired by an elderly couple he had met at one of his shows who celebrating their 50th anniversary.  Some of the stories would make you laugh and others would bring a tear to your eye.  As I mentioned earlier Dave recently won the Hockey Night in Canada Song Quest for his song "A Game Going On", we learned last night that it wasn't even his idea to enter the song.  A relative suggested they enter it and ultimately entered the song on his behalf and thanks to that assist Dave got a game winning goal out of it.
As with many other songwriters family was a big inspiration for Dave's songwriting, he told the story of an uncle who always said that you can never buy something that was made on a Monday or a Friday.   On Monday the workers are too hungover and make mistakes and on Friday they are too busy looking at the clock waiting for the weekend and make mistakes.  This is what inspired his song "Made on a Monday".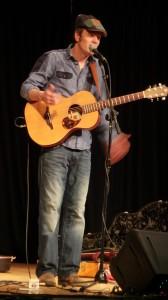 Dave Gunning
The night started with the story behind his video for "Here She Comes A Running" which was filmed in the same location as "Anne of Green Gables" and the concept behind the video was along the same theme.  Dave had submitted the video to CMT for consideration and although they initially called him back to let him know that it didn't fit in with their format a few days later the video appeared on a new program called "Celtic Country".
Dave is yet another perfect example of the amazing talent and range of musical styles we have in Canada.  From the country sounds of artists like Brett Kissel and Gord Bamford from the west to the Celtic Folk styling of Dave Gunning, John McDermott and Dave Carroll of the east.
Unfortunately I wasn't able to stay long enough last night to actually get a chance to talk to Dave personally but I'm certain that there will be a next time.
If Dave happens to show up on the bill at a venue near you do yourself a favour and go, it'll be a memorable night that you won't soon forget.  Dave's latest album is called No More Pennies and can be purchased on iTunes, MapleMusic, CD Baby or Paypal.
Special thanks, once again, to the Joshua Bates Centre Performing Arts Committee for having me out last night, I look forward to the 20th anniversary season starting in September!
Here is Dave's award winning song "These Hands" from last night's performance!