Today is one of those I want to punch-someone-in-the-face kind of day. Right now I could use a big glass of wine, or having the Mr. home at an early hour and a back massage. I can get the wine (but it's a little too early for that) but sadly the Mr. is working very long hours and no chance of me getting a back massage from anyone.
So I thought I'd share a happier day in my life...last Saturday's date night! I used to sneer at women who talked about "date night" and getting all excited about it. I just didn't get it. I thought, well, we live together, we see each other all the time, we go out, what's the big deal?
But then we moved back to the US and suddenly I had free babysitters (gracias mamá) and we could actually go out again, and I'm talking to non-child friendly places. You know, the kind we used to go to!
Like a real date, make out and all (do people still say that?) I mean, how great is that?! No Little M around, we can have real adult conversations, hang with other non-parent friends and again, a little smooching like the old times. And I get to come home with the hottest guy at the party guilt free. SCORE! It really has helped bring a spark back into our relationship and I think we are both much happier.
But date night style doesn't have to be all glitz and glamour, in my case I went for cute, colorful and *cheap* No, not me. Jut the prices!!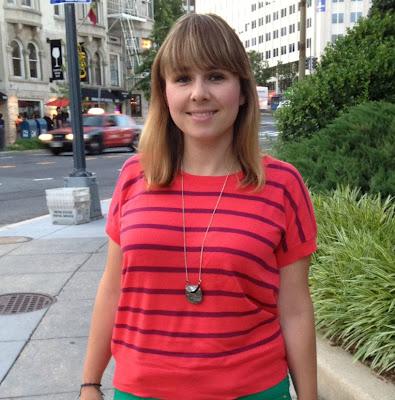 Heading to our fave French hangout Bistro du Coin in Dupont Circle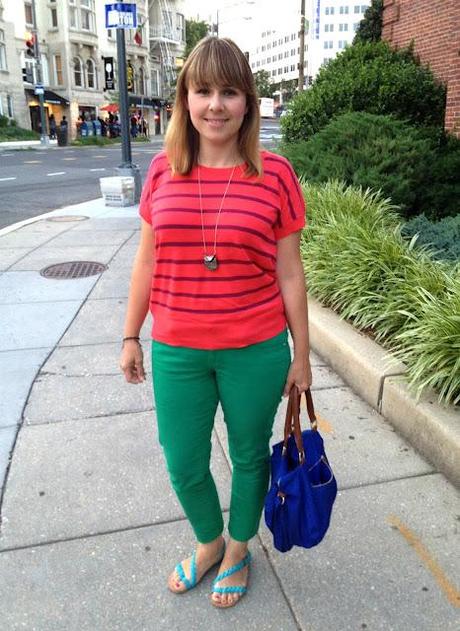 Top: Loft $15 on sale! Green jeans:  $25 Old Navy Cobalt bag: $24 Old Navy Turquoise Sandals: $15 Target Handbag necklace: 2 Primark
We had been out all day, so I switched my blue top for this cute striped orange knitted one from Loft (borrowed from my mamá) and added my handbag necklace from Primark and of course some classics like the Old Navy cobalt bag and green jeans and the turquoise sandals from Target.
I should have taken a picture of the back of this top, because it has buttons going down the back of my neck. Very cute and feminine. It got a bit colder later in the evening and I put on my fave blue blazer from Uniqlo.
Dressing nice/stylish doesn't have to cost much
Someone left a comment on another post saying they would hoping to make more money this year to buy nice clothes. You don't need a lot of money, just creativity and making sure you buy key pieces you can wear for years.
Nothing I am wearing is new, in fact you have seen them many times on here. Each item is either borrowed, re-shopped from my closet and each item on it's own is less than $30. I have still not gone the thrift store route, but I'm getting there!
Loft can be very pricey, but their sales are amazing and they have one on at least once a month. Old Navy is very well priced and have sizes beyond 16 and Target doesn't carry much costing more than $30. So really, no need to break the bank. Now get out there and find some hot deals!
And about date night, I hope you are going on them too!
besos
Sharing with Transatlantic Blonde for What I Wore Wednesday