Kunming had shown me what it had to serve, I was ready to board my first long distance train in China to Dali. My second destination of my 2016 Christmas holiday would show me a side of China that I hadn't seen before. The Three Pagodas and Erhai Lake showed me so much beauty. Yunnan had more to show me, Dali was most definitely darling! That train was crazy!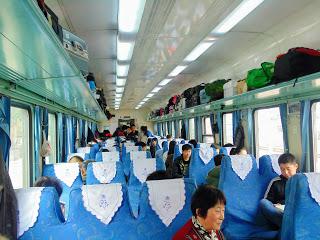 Waiting for my Dali bound K train at Kunming Railway Station I noticed the clientele wasn't like the usual folk that I had previously seen on China's High Speed Network. Not throwing shade but I recognised the standard carriages would be colourful to say the least, I had my seat number and I wasn't about to be trading for anybody! Crammed into the standard carriages of this basic China train I had paid around £6.40 for a five hour journey, I should of paid the extra bob to have a soft sleeper. In retrospect I was afforded a very interesting journey, passing through the idyllic countryside was lovely, with ever-changing sights I treated that journey as an experience for certain! The young family opposite had a cute little girl who behaved well all the way through to Chuxiong. I had to keep an ear out for the station announcements because it was practically all in Chinese apart from one muffled part. Dali grew closer!
Why didn't I just fly? Well, I had booked three trains on the cheap, setting me back about 209 RMB! Taking the train I definitely saw more of Yunnan, the distance spanning between Kunming and Dali was mental. slowly but surely my train pulled into Dali Railway Station, twenty minutes late mind and there was no plug on those trains! Calling the hostel I managed to get a taxi to go in the direction of Dali's Ancient Town, the shear ignorance of those taxi drivers made my blood boil! I was stunned by Dali's New City, it wasn't what I had traipsed all the way to see but as my taxi drove closer to my hostel I was liking the changing scenery, it looked lovely! Choosing the Dragonfly Guest House I was very pleased with private en-suite room, after Qingdao I wasn't keen on a dorm room! No! The day had been a long one, the train had felt like forever even though I'm not that tall but the lack of legroom on the train was quite restrictive. Through all of the craze, Dali served!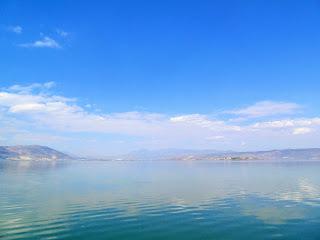 Settling into the rhythm of Dali's Ancient Town took all of two seconds once I had checked into my room. Taking a stroll to the nearest cash-point unlocked the beautifully aged streets of Dali's Ancient Town. I wasn't prepared to be surrounded by tourists so I stayed away from the main streets as much as possible. Tracking down a pharmacy I got what I needed once I confronted some blatant rudeness. Leaving that shadiness behind I booked up my Erhai Boat Trip, the heavenly waters of Dali's Erhai Lake had to be viewed during my Yunnan adventure. Boarding one of the government approved vessels it was amazing to see the pure beauty of Erhai Lake. Getting my quota of photographs I was sure enjoying the view. But lo and behold the Chinese tourists started feeding some seagulls bread, for one those flying creatures made an awful noise! Retreating inside, I knew what I needed to do! Keep it cool!
Pushing that annoying situation out of the way, the view could not be put into words, I gazed for what seemed like miles and miles away! Making a stop at an island that boasted a temple, I dashed off the boat as fast as the dawdlers would move, grabbing some food I retreated back onto the boat. Repeating the same during the final stop I took my ice cream back to the deck to appreciate the view without disruption. Believe me when I say that Dali was 'Darling' because the waters of Erhai Lake were beyond beautiful! Captured above I didn't get that heavenly snap until we almost docked at the end of the trip, the mist coated the sky slightly when the boat set sail that morning, the early afternoon sky gave a welcome burst of sunshine that helped me catch a winner of a shot! Aside from those pesky seagulls I was completely blown away with Erhai Lake's vast expanse and beauty, I just loved it! How Dali's 'darling' nature had taken me so faraway from the buzz of Kunming!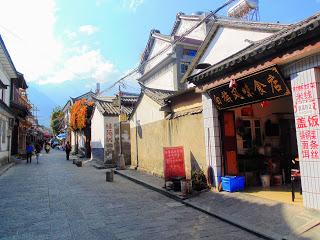 Had the pollution free blue skies gone to my head? Dali's story continued into my second day, returning back to the Ancient Town after my Erhai Lake boat trip I was feeling thirsty! Ordering a beer at a small Hot Pot restaurant had to be done. WeChat-ting my best ones had to be done also, it was almost Christmas time and they would be celebrating without me! Dali's chill had got under my skin, I was well away from Wuhan and that suited me just fine. Those aged houses with their white-washed fashion glistened in the sunlight! Feeling peckish I retreated back to the guest house for something eat and yes another beer, choosing to enjoy my food on the rooftop I was not disappointed with the views of the mountains, after Guilin I would have to say that Dali was the second natural destination that impressed me! Throwing caution to the wind I decided to get merry, go fly, I was on my holidays!
Little did I know Dali's Ancient Town had a Christian Church! Other than that it oozed tourist charm to a respectable level, I stayed away from Foreigner Street as long as I possibly could! Why did I abe to see a McDonald's?! I did not appreciate those Golden Arches one single bit! Surrounded by four or so gates, I was located by the North Gate of the Ancient Town, I did feel as if I was residing in a bubble. At first I didn't know what to think of Dali's Ancient Town but I think that was just the train journey and ridiculousness I had from the taxi drivers at the railway station. If truth be told I didn't see many foreign tourists, being around Christmas time there wasn't actually a lot of Chinese tourists either, making for a quiet trip indeed. Keeping it simple was the key, paying more attention to my surroundings did the trick! My second stop of my Yunnan Christmas holiday had shown me so much up until that point, I still had one more place to discover! So, how many Pagodas?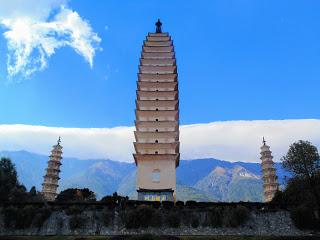 Getting to Dali's Three Pagodas was an achievement to say the very least as I had knocked back a few too many beers the night before but the festive period was fast approaching. Making use of the booking service from my Guest House I was able to get a lift to the attraction that day. Stumbling through the entrance I saw three magnificent pagodas, in real life they looked so much better than from behind a computer screen! Accompanied by the Chongsheng Temple, I decided to take a relaxed approach as I had made it to my final Dali point of interest. The towering Three Pagodas stood before a near empty square, the tourists had decided to stay away to my utter delight. Making my way closer to the Three Pagodas I found a bench that gave me the perfect view without having to stress my hungover self out. I didn't care about the modifications that had been made to the Pagodas! Dali sure brought it!
When all was said and done I wholeheartedly enjoyed my experiences in Dali, China! From the moment I boarded my first K train right up until I left for Lijiang early on Christmas Eve, the slow pace of Dali gave me some well needed chill. Living up to the expectations expressed to me by my colleagues and parents of my students it was a wise choice to incorporate this Yunnan hotspot into my Christmas 2016 holiday. Shunning the Golden Arches for that portion of my trip I was happy to support my Guest House, the food was quite good. I even found the time to blog about my weekend in Kunming, something that I was proud of because I hadn't blogged on location before that time. The seagull feeding antics on-board that Erhai Lake boat trip got me mad but the sensational views quashed any bad feeling, it was a scene from another place, some may refer to it as heaven? Nevertheless, each moment spent in Dali was super chilled, for that reason alone it was 'Darling!' Bye!
Dare To Be Dali?
Joseph Harrison