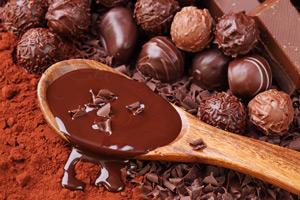 Chocolate truffles are a classical French confectionery recipe that can be easily recreated without using any sugar. They make a wonderfully rich and decadent treat.
Truffles are made from chocolate ganache and contain only two key ingredients: dark chocolate (for us, unsweetened) and double cream. The secret is making sure they are of the highest possible quality – the purest, darkest chocolate and the freshest cream you can find.
Best sugar-free chocolate brands
The best chocolate for this recipe would be some premium, unsweetened dark chocolate – basically 100% cocoa. I tend to use  Willie's Cocoa Venezuelan Black in my cooking. Ghirardelli is also a good choice.  Another possibility is to use Cavalier chocolate bars – they use Stevia to sweeten their chocolate instead of sugar.
Ganache proportions for truffles
Proportions for truffles ganache are one part double cream to two parts chocolate (by weight rather than by volume). For example, today I used 3.5oz cream (100ml) to 7oz chocolate (200g).  This makes about 30 truffles.
Basic method
Chop up the chocolate finely
Gently heat the cream in a small saucepan – do not boil
Pour the hot cream over chopped chocolate and leave to sit for 5 minutes, to allow the chocolate to melt
Add your sweetener of choice, whisk mixture together until smooth
Cool and stick in the fridge for 30 minutes or so to solidify a bit
Form small balls and dust them in cocoa powder
Truffle variations
There are numerous options and variations you can introduce to this basic recipe. For example:
Add some nice alcohol – about 1 tbsp per 3oz of cream. You can use rum, brandy, whiskey, champagne or whatever else you can think of – as long as it's not high in sugar
Add spices – cinnamon, cloves, chillies, vanilla or mint could all work well. Also try adding vanilla extract and orange peel
Use different coatings – for example, desiccated coconut or toasted ground nuts. You can also melt more chocolate and dip them in.
The possibilities are endless!
Guideline nutritional info
Using the amounts above (200g of solid 100% unsweetened chocolate and 100ml of double cream) to make 30 truffles, each truffle contains 50cal, 0.7g net carbs, 1g  protein and 5g fat.
These are guideline amounts only – please add up the values for the exact brands of chocolate and cream you end up using.
These truffles are so chocolatey and rich, chances are, you will be satisfied with just a few. I normally only need one or two to satiate the craving for something sweet.