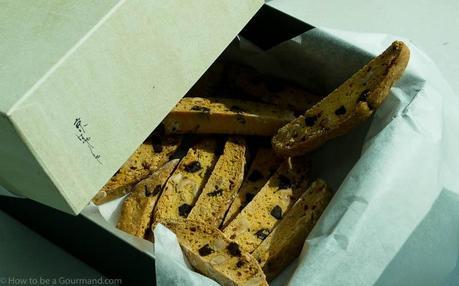 Dark Chocolate and Hazelnut Biscotti
There is something so pleasing about the smell of toasted hazelnuts permeating every room of the home, don't you think? I knew I was onto a winner when hazelnuts were included in my Dark Chocolate and Hazelnut Biscotti. I'm still on a quest to reduce the amount of butter used in my baking recipes and I wasn't to be disappointed with this one as it contains absolutely no butter at all. Niente!
Originating from Italy, the biscotti (twice baked/cooked) so named as the dough is rolled into a baguette/sausage shape and baked once, then sliced diagonally and baked a second time to give a firm and crunchy texture. Legend has it that the biscotti was considered a favorite snack amongst sailors as it was considered to be mold resistant and ideal for those long sea journeys.
This biscuit is perfect for dunking in your coffee whether it be at breakfast time or afternoon. It also serves as a nice accompaniment to a vino santo if you are feeling that little bit more indulgent.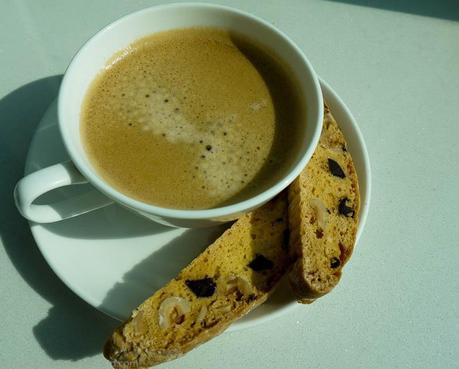 Coffee with Dark Chocolate and Hazelnut Biscotti
Having decided I was going to use hazelnuts, there was only one thing I wasn't looking forward to and that was shelling the hazelnuts. My dread was very much short lived as Amy's blog post tutorial on shelling hazelnuts using bicarbonate of soda worked like a dream. See for yourself here. Pretty nifty, eh?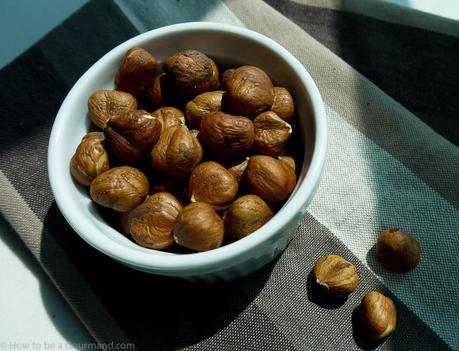 Hazelnuts pre-shelling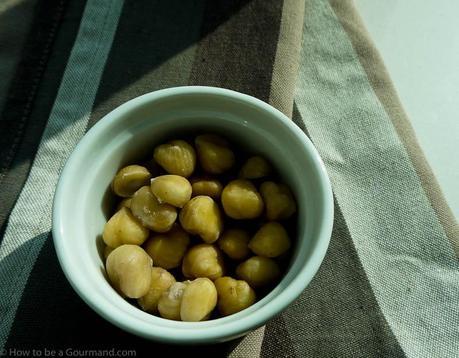 Hazelnuts post shelling
I really love discovering new ways to save time on preparing food. This recipe will serve approximately 18 slices based on approximately 1.5cm slices. This is my first attempt at making biscuits without butter and I will definitely be making them again – it also helps that my husband is a hazelnut addict!
Print Dark Chocolate and Hazelnut Biscotti
Prep Time: 25 minutes
Cook Time: 60 minutes
Total Time: 1 hour, 25 minutes
Yield: Makes 18 biscotti
A flavoursome lightweight sweet snack to accompany coffee or vino santo
Ingredients
250g of plain flour and extra for dusting
100g of castor sugar
2 medium size eggs
30g of hazelnuts, shelled, toasted and roughly broken into halves
30g of dark chocolate, I used Lindt 85% Cocoa, cut into smaller pieces
1tsp of vanilla extract
1/2 tsp of bicarbonate of soda
Instructions
Pre- heat oven to 180°C
In a large bowl beat together the eggs and the sugar.
Add the vanilla extract and stir together.
Sieve the plain flour and the bicarbonate of soda into the egg mixture. Gently fold this mixture. It should have quite a thick, sticky consistency.
Take some flour and spread it liberally onto a surface. Pour the dough onto the surface and spread out into the shape of a wide baguette. The height should be no more than 2.5cm. Lightly dust with flour all over.
Transfer the dough onto a baking tray lined with greaseproof paper.
Bake for about 35 minutes or until a golden brown color is achieved.
Take out of the oven and place on a board and slice in a downward motion. Around 1.5cm is sufficient per slice.
Place the slices cut-side facing up back onto a baking sheet in the oven and continue to bake for 15 minutes or until a golden brown color is achieved.
Turn the sides over and bake for a further 10 minutes.
Remove from the oven and leave to cool.
Notes
No butter included in the recipe so is relatively light in calories and will keep in an airtight container for 3 weeks.
Schema/Recipe SEO Data Markup by ZipList Recipe Plugin2.2http://howtobeagourmand.com/dark-chocolate-and-hazelnut-biscotti/Unless otherwise stated, text and photographs © 2011 How to be Gourmand. All Rights Reserved. Kindly request permission from the author to copy or reproduce elements of this blog.
Are you a fan of hazelnuts? How do you use them? Please tell me in the comments below!
Like How to be a Gourmand on Facebook