I may be very very busy these days, but I'd have to be dead to not notice gorgeous handbags.
A few months ago I first laid eyes on a Danielle Nicole handbag that a fellow capital area blogger Liz Fassbender of So Much to Smile About was carrying at a local event. When I asked her about it she said "the designer is from the D.C. area and all of the bags are $100 or less!"
I was hooked!
The quality and the design are superb and I'm excited to support a local designer. Her bags are not only luxurious and amazing looking (I did a beautiful mommy bags post and featured two of hers), but as I found out for myself, very affordable. NO woman can resist that!
The spring 2013 launch is taking place this month and Danielle DiFerdinando, creative director and founder of Danielle Nicole kindly sent me an invitation to come meet her, gush over the new line and invite all of my D.C. area readers to join us.
She will be at the Macy's at Wheaton Plaza on Monday, February 18th at 2:00pm.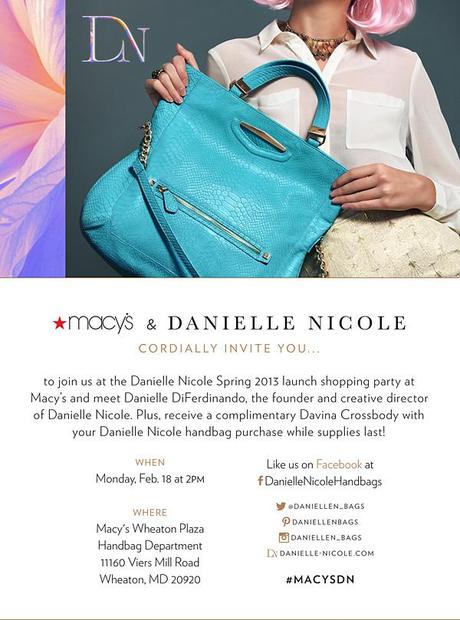 Trust me, you NEED to see these bags in person -  I will be there with my little lady!
¡besos!


Facebook | Twitter | Site #MACYSDN