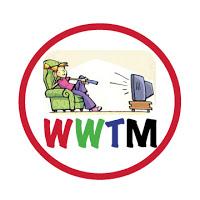 THE ANSWER TO MONDAY'S TRIVIA QUESTION: Jon Hamm's character on Mad Men was Don Draper

FIRST FIVE: Mike O'Dea, Dave DeSocio, Brett Blattman, Bobby Aguilera & Jo Engel
HONORABLE MENTION:Brett Blattman
THE NUMBERS
Friday's Broadcast Top 5
Dateline-NBC 1.2/5.0
Best Time Ever with NPH-NBC .8/3.4
Shark Tank-ABC .8/3.4
Last Man Standing-ABC .7/4.1
Blue Bloods-CBS .7/6.2
Friday's Cable Top 5
College Football-ESPN 1.1/3.1
Family Guy-Adult Swim .7/1.6
Girl Meets World-Disney .6/2.4
Bering Sea Gold-Discovery .5/1.7
The Cleveland Show-Adult Swim .5/1.1
Friday's Top 5 Primetime Twitter Ratings
Stephen Colbert-CBS 16,000 Tweets
Jimmy Fallon-NBC 10,000 Tweets
Doctor Who-BBC America 9,000 Tweets
The Rachel Maddow Show-MSNBC 3,000 Tweets
RuPaul's Drag Race-Logo 1,000 Tweets
Sunday's Broadcast Top 5
Sunday Night Football-NBC 8.5/22.9
Football Night in America-NBC 7.0/19.8
NFL Overrun-FOX 6.8/19.1
Primetime Emmy Awards-FOX 3.2/10.3

(Down 4 million viewers from last season. Maybe it would help if they didn't air it during Football Season? or Maybe move it to another non-Football night? )
Big Brother-CBS 1.8/6.7
Sunday's Cable Top 5
NA
Sunday's Top 5 Nielsen Twitter Ratings
Emmy Awards-FOX 1,063, 000 Tweets
WWE Night of Champions-PPV 267,000 Tweets
Fear the Walking Dead-AMC 46,000 Tweets
Keeping Up With the Kardashians-E! 22,000 Tweets
Big Brother-CBS 22,000 Tweets


THE SHOWS
Dancing With the Stars
Monday's are pretty boring TV nights for me, no MUST SEE shows so this season I go back and forth between Monday Night Football, Dancing with the Stars and The Voice. I guess it's sort of nice that with Dancing with the Stars and The Voice you can tune in, and out and it's easy to keep up. Apparently there are still fun little theme nights, last night was Hometown Glory Week.  My personal opinion...no fillers! Just a tiny bit of practice footage, the dance, the judging and move on. 2 hours? 2 nights? TOOOOO MUCH!!! Of course my Backstreet Boy, Nick Carter, was great. He had some issues with his shoes and slipped but I didn't even realize it, I thought it was part of the dance. What do I know? The judges are so into their judging job, they must not get out much in the off season. Of course my other fave is Gary Busey. I don't know what he's taking but he is OUT THERE. The Vine superstar kid drove a dirtbike onto the dance floor. Not sure that's legal but it was cool and for a Vine star, cool is VERY important. 
The Voice
I've said before that The Voice is about 2 things, the chairs and the judges, we really don't care THAT much about the musicians. Well, I'm revising my statement a tiny bit. The Voice is about 3 things. The chairs, Adam and Blake. Pharrell and Gwen are fine. Xtina and Usher are fine, Shakira is fine, but honestly, NBC better give whatever Adam and Blake want in oto keep them coming back every season. Their little bromance is adorable and Blake's hilarious. Sure it would be scandalous and fun if Blake and Gwen hooked up now that their both single, but any hot chick hooking up with Blake's going to be scandalous and fun. There were 2 what I will deem "cool moments" from last nights show. The first was when Chuck Woolery's son auditioned. Chuck's not aging well at all, but his son's cute and of course like all Voice contestants, he had a bit of a "story" to tell but unfortunately, the judges didn't turn their chairs for the kid. The second "cool moment" was when a guy who looked like Pat from Saturday Night Live sang a gorgeous version of Sia's "Chandelier" the judges all turned and were SHOCKED at the person and the voice attached to it. Of course, that guy had a "story" too and all the judges embraced his individuality and let him tell us all how important it is to accept yourself for who you are. Easy to say and do when you're on The Voice. 
Blind Spot
I totally thought I watched the entire Blind Spot pilot, but I guess I didn't because there was a big reveal at the end and now...I'm in. My Strike Back dude, Sullivan Stapleton is in this show and I LOVE HIM but originally,  I didn't think that love would be enough to give this one a Season Pass, but with this new information, I think I'm sticking around for a little while. I'm not loving the casting choice of the chief, she's really hard on the eyes but Jane Doe's gorgeous and she can kick @ss too. If you've seen the promo, this gist with this show is that a hot naked chick with tattoos all over her body is left in a duffle bag in Times Square. She has no memory at all of how she got there, who she is and what any of the tattoos mean. The only clue is the name Kurt Weller FBI on her back. Kurt is my Strike Back guy. Here's what we do know. This chick can speak Chinese, has a spot on shot, definitely graduated from Tiger Schulman and once had long straight hair. I'm sure a lot of you guys DVR'ed this one and haven't seen it yet so I won't discuss the big reveal just yet. I'd give this one a try, see what you think. I don't know what happens when they figure out what all the tattoos mean but I guess depending on ratings, we'll find out in 13 weeks or next Season. 
THE OTHER STUFF
I've been doing some reading again. Wish it were juicy books, but I rarely read for pleasure anymore. I've got a book list a mile long that I'll probably NEVER get to. 3 articles is all I had the time and the attention span for. I did learn some stuff worth sharing, so here goes:
Article #1 
Netflix and Cable originals may be what everyone's talking about, but broadcast TV's still in the running. What seems to be helping broadcast TV is when the shows stars Live Tweet during an episode. Top rated broadcast TV shows currently create more social media followers as they promote and support their programs with hashtags. Currently, The Big Bang Theory and NCIS have 10 million more likes on Facebook than Summer blockbusters Jurassic World and The Avengers…COMBINED. These shows also have more followers than Orange is the New Black and Game of Thrones. Scream Queens, the most anticipated broadcast premiere of the season, already has 110,000 Twitter followers,  320,000 Facebook fans and 4.5 million views on YouTube. In addition to Scream Queens, Heroes Reborn, Supergirl, Quantico and The Muppets all seem to have already garnered a bunch of social buzz. The buzz this year is bigger than 14/15 when 75% of the seasons shows garnered less than 100 mentions per day in social media. Social media mentions around Fall premieres has jumped an average of 400% for the 15/16 TV season. 
Article #2 revealed some surprising facts.  All we keep hearing about is live streaming, live streaming, live streaming but apparently those Millenials everyone is targeting and talking about aren't as obsessed with live streaming as we all think they are.  1230 broadband users who watch at least 5 hours of TV a week were surveyed and only 10% consider live streaming "essential" and 16% consider it "very important." Only 11% of Millenials think viewing live sports on mobile devices is "essential" and 20%  think it's "important." This isn't just for sports, only 8% felt that watching live TV series was essential and 20% said it was important. Net/net, with all the attention it's been getting, live streaming isn't as high on customers priority lists as advertisers think. Interestingly enough, 71% of respondents said they watch online content on a Smart TV which is an increase of 9%. Game consoles were the most popular entry point but that's changed. In 2015 39% of people who watched online programs on a TV set used a smart TV vs. 42% who connect through a game console but 2 years ago it was 52% connecting via game consoles and 25% via a smart TV. iTunes customers use an average of 4.3 devices  to access online video, Amazon subscribers use 4.1, Netflix streamers use 3.6 and HBO subscribers 3.5. 59% of Apple TV users say they're using that device more than they did a year ago, 50% of Roku agree. 48% of tablet users and 44% of smartphone owners are usig those devices more to watch online shows. 53% of 16-34 year olds use a device other than a cable set-top box as their go to TV viewing device. 
Article #3
Video usage on personal computers, smartphones and mobile tablets has grown 20%  year over year. 

The largest increase in digital video consumption was found to take place overnight and in the early morning hours. Between 5:00AM and 8:00Am. This is an increase of 38%. 

At 9pm there was an increase of more than 700,000 adult users of digital video year over year. 

TV use is strongest between 6pm and 6am when it accounts for at least half of all media use. 

The use of TV connected devices including DVR's, game consoles and DVD players increase later into the evening hours. 

Radio's usage is greatest between 6am and 6pm and exceeds TV during the 7am hour. 

The greatest audience usage of the PC is between 9am and 4pm. 

Smartphones and tablets account for one in 6 adult media users every day. 
Tuesday's Trivia Question: Name ANY game show that Chuck Woolery hosted. 
WWTM-Kristy Like me on Facebook at Watching Way Too Much
Follow me on Twitter at [email protected]
http://watchingwaytoomuch.com
[email protected]