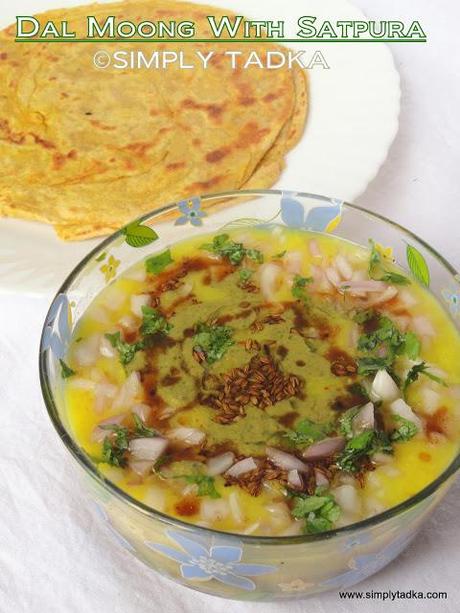 Today I cook "Dal Moong with Satpura" from Sindhi Cuisine, this recipe is adapted from Vaishali's blog Ribbon's to Pasta's. Satpura is Indian flatbread or layered paratha, Sat means seven and Pura means layered which cooked as parathas. Dal moong is combination of two types of moong, one is yellow gram and second is green split grams which cooked separately and assemble together in one bowl. Garnish with spices, onion and chutney.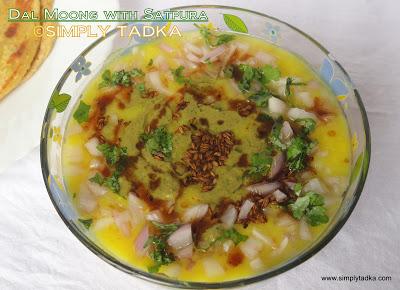 Wiki says "Sindhi cuisine refers to the native cuisine of the Sindhi people from Sindh, Pakistan. The daily food in most Sindhi households consists of wheat-based flat-bread (phulka) and rice accompanied by two dishes; one is gravy and second dry. Today, Sindhi food is eaten in many countries including India, where a sizeable number of Sindhis migrated following the Partition of British India." Soaking Time: 2 Hours Preparation Time:  15 Minutes Cooking Time: 30 Minutes Serving: 2 Persons Recipe source: Vaishali
Ingredients: For Dal 1/4 Cup Yellow Gram 1/4 Cup Green Gram Salt to taste 1/2 Tsp. Turmeric Powder
Other Ingredients Chopped Onion Green Chutney Amchoor/Imli Chutney Chopped Green Coriander
For Spices (As per taste) Garam Masala Red Chili Powder Raw Mango Powder
For Tempering 1 Tsp. Cumin Seeds 1/2 Tbsp. Clarifying Butter
For Satpura Wheat Flour Dough Ghee Salt Turmeric Powder Red Chili Powder
Pictorial: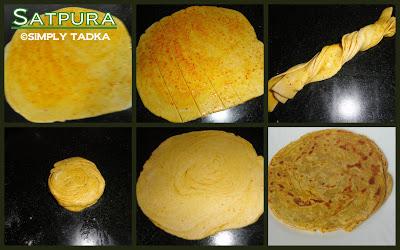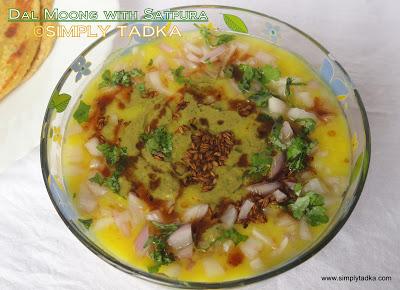 Direction: For Yellow Dal Wash and Soak the yellow dal in water for two hours. Boil this dal with salt and turmeric powder and water till to 3-4 whistles. Blend it with spatula for little mashy and keep aside.
For Green Dal Wash and soak the green dal in water for two hours. Boil this dal with water, salt and turmeric powder till to 2 whistles in separate utensil. Blend it with spatula for little mashy and in thick consistency and keep aside.
For Cumin Tempering Heat the ghee and add cumin seed till to crackle.
How to Assemble Dal In large bowl, first place the green moong layer and second yellow moong layer. Sprinkle spices according to taste and add cumin tempering. Garnish with green chutney, Amchoor chutney and chopped onion. Sprinkle chopped fresh green coriander. Serve hot with satpura.
For Satpura First prepare the stiff dough with water and wheat flour as chapatti dough. Take the big portion of dough and roll it using rolling pin. Grease ghee/ clarifying butter. Sprinkle turmeric, salt and red chili powder. Cut the round disc in strips vertically using sharp knife. Put these strips one on top of the other and combine together as round form. Apply little dry flour and roll again in round form. Heat the griddle/ tawa and cook from both side with little ghee till to golden. Serve hot satpura with moong dal.
Blogging Marathon page for the other Blogging Marathoners doing BM#30
Enter your email address:
Delivered by
FeedBurner