Sunday is the one day of the week reserved for sleeping in and relaxing in the morning. The epicurean and I have a long-standing tradition we've titled "pancake Sunday" and we endeavor to create a new pancake combo each week to enjoy with a cup of coffee as the morning light streams in through the blinds. It's a welcome reprieve from an otherwise hectic week, and we keep it sacred for just that reason. This week's treat was a dark GF dark chocolate and tart cherry coffee cake with an oatmeal crumble, and it was delightful!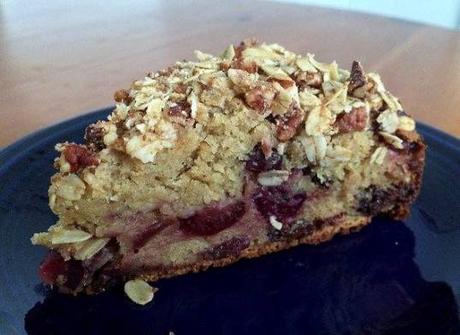 A delicious start to the morning!
Chasing42 Log: 20160117
Run: It had been a while since I ran my go-to loop, which I've dubbed the "Biden Loop", as it passes right by the Vice President's residence. It's a not-so-small reminder of just how small the state of Delaware actually is and how connected everyone in the state seems to be. We've moved to the Iowa of the East Coast, as the epicurean and I joke.
Thought: After living in such extreme climates in the midwest for so long, I was struck by just how much the weather dominates conversation and decisions. It has been ridiculously mild in Delaware this year, to the point that I have only recently even unpacked my running pants and tights. It snowed here for the first time yesterday as I was heading out for my run, but I was still in shorts and quite comfortable. The ground was warm enough that very little of the snow actually stuck to the ground, but it was a refreshing reminder that it is actually January! I'm sure we'll get out share of cold weather, but I have a feeling my definition of cold will be changing considerably as I spend more time in Delaware, and I'm not complaining :)