I'm a product junkie. Trying the latest and greatest is a priority.  So when I stick with a specific product or type of product for a long time, I know it's crucial and I'm in love. I've had questions about my beauty and skin care and thought I'd share my daily go to routine and products.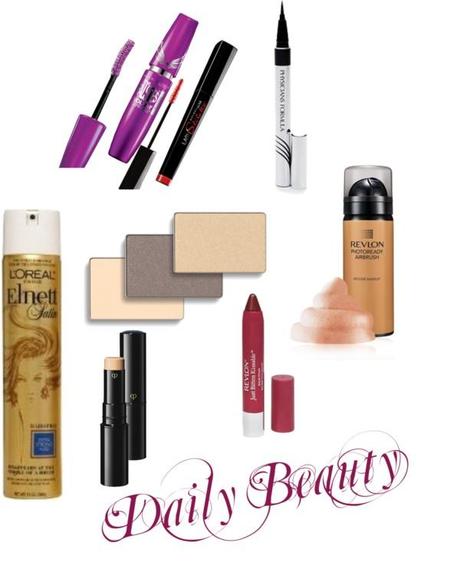 Cle de Peau Beaute concealer / Maybelline Mascara / Mary Kay eye shadow /Liquid eye liner / L'Oreal Paris Elnett hairspray/ Revlon Just Bitten Lipstain
I've mentioned before that I'm anal about my skin care routine.  I wash my face and moisturize every night.  I use eye cream and I use sunscreen daily. My sunscreen, moisturizer and eye cream vary because I need more help at different times of the year.  I use Cetaphil to wash my face. It's gentle and cleanses thoroughly without stripping oil from my skin. Clean, moisturized skin helps your makeup look great and last.
FACE
My favorite foundations are those that give good coverage without feeling heavy.  This spring I discovered Revlon Photo Ready Airbrush Foundation.  It's super light but gives great buildable coverage. Dark under eye circles have been an issue for me my entire life.  I tried every product imaginable until I read about Cle de Peau concealer and took the expensive plunge.  I've been using it ever since.  It's hands down the best concealer for dark circles.  It gives amazing coverage and the tube lasts forever. I apply both my foundation and concealer with a brush.
EYES
Most days, I'm pretty consistent with my eye makeup.  I save the bold eyes for evening.  I use neutral colors on my eyes, cream on my entire lid, highlighter on the brow and in the inner corner and granite on the crease. Mary Kay Granite is my all time favorite eye shadow. It's dark enough to give dimension but doesn't over power my eyes and make them look too dark (an issue for someone with dark circles).  I even use it for a lighter version of a smokey eye. I add black liquid liner.  Liquid works best for me because of the great staying power.  I finish with two types of mascara. I learned this from a make up artist.  Fist I layer volumizing mascara. Then I add lengthening mascara.
LIPS
I love a bold lip. Fuchsias, plums, and reds are my friends.  The Revlon Kissable lip stain is great. It has staying power but doesn't feel stiff or chalk like. It comes it some fantastic bold colors. Crush is my new favorite, it's a pretty plum, for fall.
HAIR
My hair is fine and straight. I use several products to give it volume and texture.  Even when I'm just doing a simple style, like curls, long and straight or a pony tail, I add a blast of  L'Oreal Elnett.  It's a bit on the pricey side for drugstore hairspray but it's the best.  It has staying power and holds my style but never feels stiff. It's easy to redo my hair with a just a quick run of the brush or comb.  Even when I apply it more heavily for an updo, I don't have trouble brushing my hair out at the end of the night.
Those are my must have beauty tools.  What are yours?