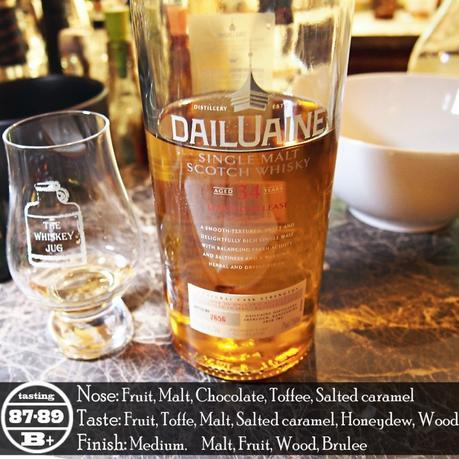 Part of the 2015 Diageo Special Releases we tasted at a recent LAWS meeting, the Dailuaine 34 Years is the first official bottling from the Dailuaine distillery in almost 16 years. On the whole this is a rather rare whisky to come across because while it is the 6th largest distillery in Diageo's portfolio – 3 wash, 3 spirit & 3.4M liter output annually – nearly all of what it makes goes into Johnny Walker blends.
Being a 2015 release that's 34 years old that puts the Dailuaine 34 Years at a distillation year of 1981 which was just 2 years before they removed the Saladin Box from the distillery and began getting their malt from one of the big malting facilities in Scotland. Making this unique in yet another way in that all the barley was malted there at the distillery. I'm not sure exactly when in 1983 the Saladin was removed, but any NDP bottlings you find after 1983 come from outsourced malting and securing a 1984 distilled NDP release could make for an interesting side by side comparison.
Dailuaine 34 Years Info
Region: Speyside, Scotland
Distiller: Dailuaine
Mashbill: 100% Malted Barley
Cask: Hogshead
Age: 34 Years
ABV: 50.9%
Cask Strength
Bottles: 2,952
Price: $700
Dailuaine 34 Years Review
EYE
Honey
NOSE
Complex fruit, malt and chocolate with light touches of toffee, salted caramel and graham cracker pie crust.
PALATE
Rich complex fruit, toffee, malt, salted caramel, honeydew and some light notes of wood, earthiness and those candy dots you get in olde time candy shops.
FINISH
Medium finish that's malty and fruity with a bit of wood and brûlée.
BALANCE, BODY & FEEL
Decent balance, medium body and a warm silken feel.
OVERALL
Dailuaine 34 Years isn't overly exceptional, but it is quite nice for what it is: a bold whisky with a big fruity Speyside character and some dark earthy notes. The level of fruity sweetness in the whisky does make it feel a touch off balanced as it overshadows the other flavors and aromas to varying degrees, but the aforementioned dark and earthy notes help reign it in to the point of being multi-faceted and not one noted.
SCORE: 87-89/100 (B+, not consumed at home)