Okra resonates with comfort food in many Indian homes –  one vegetable people either love it or try to avoid at all costs. I remember mom packing Okra atleast once a week in either our school lunch box or to work and I'd be equally delighted considering it is one of my favorite veggies of all times. After I moved to Dubai, cooking Okra did excite me but rather occasionally, only for the sole reason that as much as I love eating them, I despise the preparation part of chopping where it releases a whitish green sticky 'slime'. And as a result, Okra only made its way onto our dining table just sporadically, say once in two months! These are the small things that make me miss living with family even more – where I know that what I wish for will spontaneously appear!
I have never liked ordering for Okra in a restaurant. When mom makes the best at home, then why? Recently we were eating out with a group of friends at Utsav (Indian restaurant in Karama) and one of them called for Bhindi Gravy. I really didn't knew what to expect but when the reddish-brown spicy gravy packed with flavors was placed on our table, I was the one who ate the most of it. Delicious? Scrumptious? Way beyond that, I'd say! I love the fact that Okra can be absolutely such a versatile vegetable to cook at homes only if people let go of their inhibitions. Experimenting right is the key!
However, for some reason off lately, I've been in much more mood to cook Okra – either deep frying them or sauteing them in loads of onions and spices; making curries inspired by Kerala cuisine or cooking a curd gravy. Though we still eat this vegetable in its crispy best with daal-chaawal (rice and lentils) by its side, this recipe of cooking fried okra in a concoction of curd, gram flour and spices that my mom recently shared is becoming our ultimate favorite one. An Indian classic by all means! Same like how you proceed with deep-frying chopped okra in vegetable oil, go furthermore and prepare a mixture of gram flour and curd like you'd do for a Gujarati Kadhi. It is that simple and it didn't even call for chopping onions, another thing I detest yet can't ignore!
My top tip for selecting an Okra would be to look for bright green firm ones devoid of any bruises and dark patches. Let go of limp pods as they are not the freshest. Before cooking, rinse Okra well in clean water and pat dry atleast 15 mins ahead of cooking time. Cut off tops and a slight bit of bottom to discard.
Don't hate Okra. They're fantastic!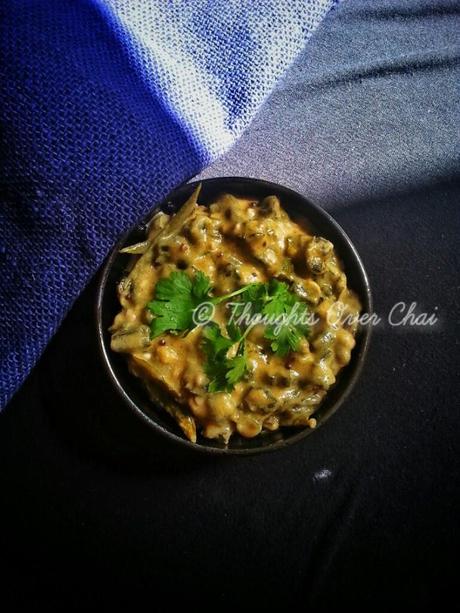 Recipe.
Okra – 350gms
Gram Flour – 2-4 tbsp
Curd – 1/2 cup
Turmeric Powder – 1/2 tsp
Red Chilli Powder – 1 tbsp or less (depending on the spice level)
Coriander Powder – 1 tbsp
Cumin Powder – 1 tbsp
Salt to taste
Curry Leaves – 8-10
Brown Mustard Seeds – 1 tsp
Cumin Seeds – 1 tsp
Fennel – 1 tsp
Coriander – 4-6 tbsp, chopped
Oil to fry
Method:
Wash and pat dry Okra on a kitchen towel. Cut in cubes and keep aside. Fry Okra in 1/4 cup oil til it turns brown and crisp. Remove in a bowl lined with paper towel and mix in salt for seasoning. In another bowl mix together curd, gram flour, spices, salt and 2 tbsp water. In a wok, add few teaspoons of oil, curry leaves and splutter mustard, fennel ,cumin seeds till fragrant. Add the curd mixture, salt and saute on a medium heat till the raw smell of gram flour goes away, approximately 4-5 mins making sure the concoction doesn't stick at the bottom of the pan. Add more water, if required, to maintain a thick creamy consistency. Stir continuously to avoiding forming any lumps. Add fried okra and give one boil. Serve warm with chapatis garnished with loads of chopped coriander.