Random Access Memories, Daft Punk's first non-soundtrack album in eight years, might be the biggest release of 2013 (not counting what Kanye might have in store). It's also a humongous album, clocking in at over an hour and with several tracks breaching six minutes in length. This is a production that sounds like it broke the bank, but it a sincere enough musical send up to feel intimate and crafted. Random Access Memories is not Daft Punk's strongest songwriting effort (that honor may always belong to Discovery), nor does it represent a progressive leap from what the duo were doing over a decade ago. But Random Access is almost unbelievably focused, and if the preference here is to swirl an old cauldron's contents into something fresh and exciting rather than kick the pot over and start from scratch, then at least the result is something fresh and exciting and not a mess.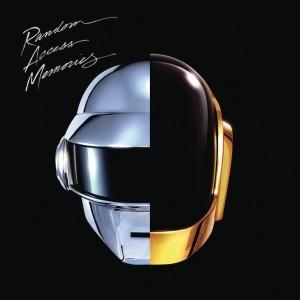 The collaborations on Random Access Memories would not have been any more obvious ten or twenty years ago than they are today: an Italian electronic composer, the founder of the band CHIC, the man who wrote "Fill Your Heart" for David Bowie, and the usually creatively self-sequestering Julain Casablancas. Only Animal Collective's Noah Lenox and Pharell seem like anything close to contemporaries of Daft Punk, and even they would normally feel like a musical mismatch. But the album's contributors – especially the older ones – absolutely define its sound: if not through their direct involvement then through their general influence. Daft Punk have not only put recognizable faces to their music, but there is now a distinctly 20th century smear to their alienating futurism as well.
For example, Giorgio Moroder's monolog at the beginning of "Giorgio by Moroder" lends some chronology to the album's sound, a fusion between European funk and the kind of synthesizer music made popular by groups like Yellow Magic Orchestra that would make its way into videogame soundtracks. Though some songs, like Moroder's composition and "Motherboard" sound firmly in the vein of a midi-music electronica score, they sound perfectly compatible with funkier fare like "Give Life Back to Music" and original single "Get Lucky." Random Access balances these two inclinations perfectly – never letting them get overly combative, but always making sure that each reminds of the other; "Give Life Back to Music" still has Daft Punk's usual digital vocal slurps, and "Giorgio by Moroder" is clearly birthed from the same roomy discothèques as the album's Euro-funk pieces.
That's not to say that Random Access is a one (or two) trick pony, or that there are no surprises to be found. "Touch" is exactly what Paul Williams would be expected to bring to the table, and even though its cocaine-age balladry is perfectly companioned with the digital Panda Bear feature "Doin' it Right," the song still has an alien, unquestionably uniquely 70s feel to it. "Doin' it Right" is definitely the album's most unexpected collaboration, and perhaps its most Daft Punk-reverent. At 34, Panda Bear is the youngest artist working on Random Access and maybe the only one for whom Daft Punk served as musical rite of passage and as a defining influence. This is an album made by people who are comfortably past their mid-30s, and it shows – though not in any of the ways you would expect (or dread).
What's so cool about Random Access Memories is its nonchalant reverence of music you would associate with 8-track players, videogames, and soft techno. The boisterous orchestral intro to "Beyond" could have come straight from Final Fantasy Tactics but it slides into the song's Phoenix-like funk pop with almost offputting ease. Random Access is funny and thrilling. It may not be the songcraft achievement of an album like Discovery - and a now musically acknowledged kinship with other Versailles acts reveals some of Daft Punk's slight vanilla-ness in comparison with Air – but Random Access is a force to be reckoned with. If this is to be the elusive Daft Punk's swan song then so be it – I don't suspect it could be easily topped.

4/5 bars
Daft Punk – "Within"
04 – Within
Daft Punk – "Beyond"
09 – Beyond