You know what is so fascinating about living in different parts of India? That the essence of food change with every mile in Indian territory  is well known, cultural cuisine play a vital role too. I have grown up in three different cities and collected diversified food memories along the years. However, the meals at home were generally centric to the religion and that is what has made a mark in my life.
Bohras do take a lot of culinary influence from other cuisines, like for example, Dabba Gosht that seem aptly American yet is totally unique. The recipe uses a stunning combination of "mac and cheese" as a base with Indian spices to make a sort of desi bechamel sauce. Soft melt-in-the-mouth mutton pieces are added to the sauce to take it off the beaten path and transferred to a casserole with addition of tomatoes and eggs cooked by pouring sizzling hot ghee.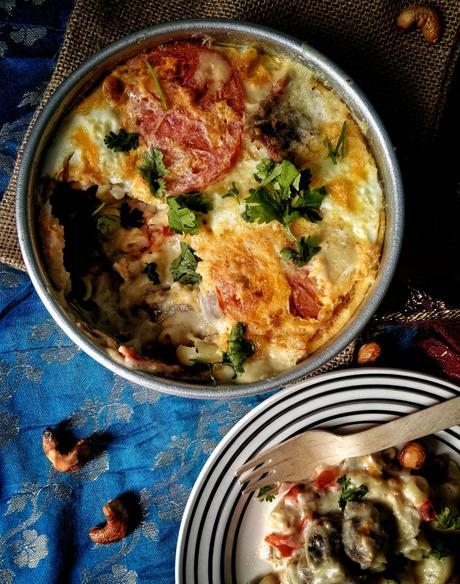 Any Bohri would vouch for Dabba Gosht to be an unmatched amongst all the mutton dishes in India – a rare, succulent, meaty delicacy hardly found outside a Bohri home and popular within community's catering circle so much, it established its own share in every community feast at one time which was taken over by another favorite- Lasagna; ofcourse with a unique touch of its own. Yet, Dabba Gosht remains etched as an exclusive Bohri guarded secret.
Dabba Gosht goes excellently well with fresh bread or is usually eaten off the spoon with layers of macaroni, béchamel, cheese, mutton and egg creating a riot of heavenly flavors.
If you make this recipe, kindly share your photos and feedback with the #thoughtsoverchai on Instagram and Facebook. I'd love to see your creations!
Dabba Gosht
Ingredients:
Lamb meat –  gms, boneless
Green chilles – 1, sliced in half
Red pepper (capsicum) – 1
Green Pepper (capsicum) – 1
Onion – 2, Carrot – 1
Macaroni – 1 ½ cups
Ginger garlic paste – 2 tbsps.
Ghee or clarified butter – 3 tbsp.
Cashew paste- 1 tsp
Eggs – 2, beaten with salt and pepper
For the sauce :
All purpose flour – 2 tbsp.
Butter – 1 tbsp.
Milk – ½ cup
Cheddar cheese – ⅓ cup
Method:
Boil the meat in 1 cup water, green chillies, 1 sliced onion and ginger garlic paste in a pressure cooker until tender and cooked. Drain the stock and use for other cooking purposes.
Chop onion, peppers and carrot in Philips Onion chopper into small cubes using an onion blade. Keep aside.
Boil macaroni as per the packet instructions and drain the water.
In a wok, melt butter and the chopped veggies. Cook until soft.  Add cashew paste, coriander and red chilli powder. Add flour and fry until the raw smell go off. Pour milk in a steady stream while stirring continuously so it doesn't form into lumps. Add tomato ketchup, cheese and check for salt. Add some mutton stock if the sauce is too thick.
Mix in macaroni and meat.Turn off the flame.
Heat ghee in a pan until it is hot.
Remove the meat macaroni mixture in an oven proof dish and pour the beaten eggs over it, followed by ghee.
Preheat Philips Air Fryer to 180 Degrees C for 5 minutes. Place the baking dish in the fryer and let cook for another 10 minutes.
Serve hot with chapatis or naan.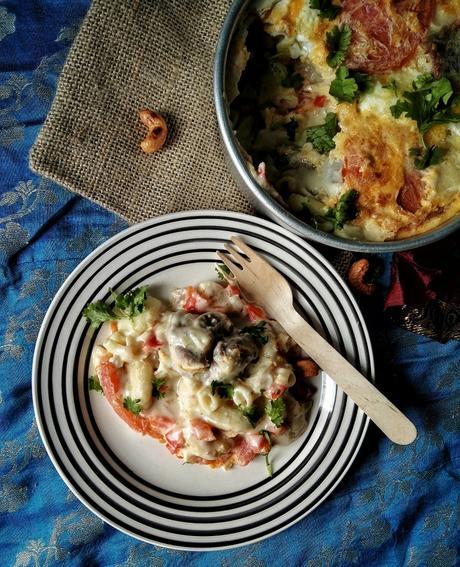 Disclaimer – I've been commissioned by Philips Middle East to share 6 of my best family recipes for #30daysofhomemade, however, the views, story and recipe remain my own.