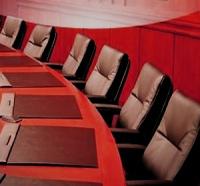 Because of a Los Angeles County D.A.'s bribery investigation into a local community college administrator, the Oversight Board for Sierra Madre's former Community Redevelopment Agency will be one member short.
Pasadena City College Vice President for Administrative Services Dr. Richard van Pelt was placed on leave last week after the district attorney's office launched a campus bribery probe. On Thursday, Jun. 7, investigators descended upon van Pelt's home and office, seizing documents and computers.
In an email to this reporter, Gail S. Cooper, General Counsel for Pasadena City College, said that Dr. van Pelt would be replaced on the Sierra Madre's Oversight Board, which was formed to oversee how Sierra Madre's Successor Agency distributes the assets left over from its dissolved CRA.
"Please be advised that the District is taking steps to substitute Dr. van Pelt in all areas in which he is involved," wrote Cooper.
Dr. van Pelt, a resident of Altadena, along with PCC's Facilities Services Supervisor Al Hutchings, are both being investigated for the alleged solicitation of bribes in 2011 for a competitive contract for the school. The D.A. received the complaint in March, and charges have yet to be filed against the two men.
Working for the college since 1997, Dr. van Pelt held wide-ranging authority over campus finances, according to school documents. He was involved in developing the college's annual budget, overseeing the construction and maintenance of campus facilities, and managing payroll.
According to Sierra Madre Finance Director Karin Schnaider, who also sits on the Oversight Board, the Pasadena Area Community College District is responsible for van Pelt's appointment to the board, and they would be responsible for assigning a replacement.
At the board's first meeting on May 31, Sierra Madre City Attorney Terri Highsmith said that state legislation AB 1X 26 sets forth who gets to nominate the seven different members and that the selections must be made in public.
"The nomination of each of the members to this oversight board have been done in accordance to the Brown Act," said Highsmith. "The appointments that the city made were done at a City Council meeting … and that's the way it would have been done in every other jurisdiction."
Dr. van Pelt's appointment by the community college chancellor represents just one of those jurisdictions.
Other regional agencies include the County Board of Supervisors, the mayor of the city, the largest special district as determined by property tax, the county superintendent of education, and a bargaining group of employees formerly associated with the dissolved redevelopment agency.
Current committee members include former Mayors John Buchanan and Bart Doyle, former police chief Marilyn Diaz, David Jaynes, Finance Director Karin Schnaider, and Tom Love.
California abolished its redevelopment agencies for cities and counties effective Feb. 1 amid the state's budget problems. The City of Sierra Madre took over the responsibilities of its dissolved CRA at its Jan. 10 council meeting.
The next Oversight Board meeting is scheduled for Monday, Jun. 25 at 6:30 p.m.