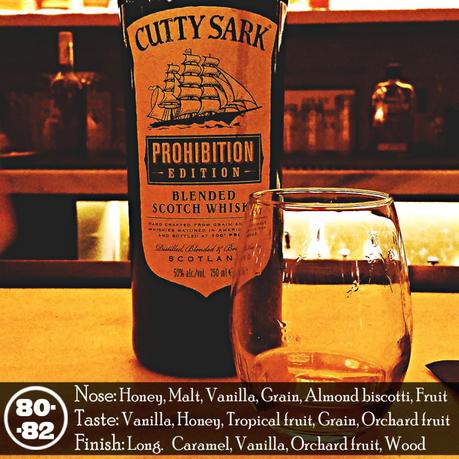 Cutty Sark Prohibition Edition was created to celebrate Captain William McCoy who supposedly smuggled Cutty Sark into the the USA during prohibition. He was renowned for never cutting his liquor and always delivering the good stuff which was dubbed "the real McCoy". There's no way to validate whether Captain McCoy ever smuggled in Cutty Sark, but he was an actual rum-runner during prohibition (bootlegger). However the term "the real McCoy" is more often accredited to a story involving an early 1900's bare knuckle boxer named Kid McCoy, though even that's in dispute and term could originate even earlier.
So what's the difference between this and regular green bottle Cutty? According to their site: "whilst our regular Cutty Sark blend is 40% ABV. This is a "small batch" blend of the finest single malts and top-quality grain whiskies. Hand-selected American oak casks give subtle signature flavors of vanilla and citrus fruits…" Which isn't super helpful , but the press release basically says it's supposed to have more malt in the blend and married in 100% ex-Bourbon casks. For what it's worth, it does taste less grain heavy than the green bottle, but without them telling us what the levels are in each there's no way to know for sure.
Cutty Sark Prohibition Edition Info
Region: Scotland
Blender: Cutty Sark
Cask: ex-Bourbon
Age: NAS
ABV: 50%
Non-Chill Filtered
Price: $30
Cutty Sark Prohibition Edition Review
EYE
Amber
NOSE
Honey, malt, vanilla, a little youthful grain, but not much. Almond biscotti and a touch of fruit.
PALATE
Vanilla, honey, tropical fruit, a bit of that youthful grain, but still not a heavy amount. Some orchard fruit, toffee and a hint of wood. There is a hint of an underlying, and complimentary, sweetness.
FINISH
Long. Caramel, vanilla, orchard fruit and a bit of wood.
BALANCE, BODY & FEEL
Good balance, shocked how much i like it. Medium body and it runs a little hot, but not bad. Relatively smooth
OVERALL
Cutty Sark Prohibition Edition isn't amazing or awful, but might be worth having around to mix things up from time to time. Definitely not a daily dram, but something I would actually consider picking up for cocktails and occasional sipping.
SCORE: B- (80-82/100: Range due to a single glass & not tasting at home)