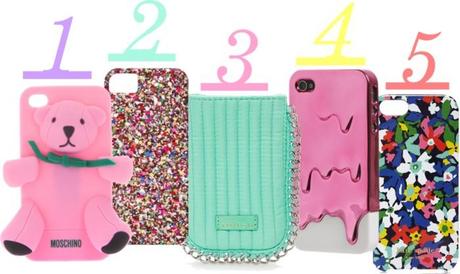 My phone upgrade with 02 is coming up in just over a weeks time and I've decided to stick with Apple and go with an iPhone 5 in white. When it comes to accessories I tend to steer towards my favorite colours and something fun, so here are my top picks for iPhone 5 cases.
1. Gennerino The Bear by Moschino
This phone case reminds me of a special teddy bear that I have kept since I got him for
Christmas
when I was three, so I instantly wanted to get this case as soon as I saw it. It also comes in other colours such as red, yellow, and brown. At the moment I'm torn between the pink and the brown, which one should I choose?
I love the variety of colours in this printed sequin case. The website also offers two different options, so you can have a light weight hard plastic case or a more durable version that includes a rubber lining.
This slip case is in one of my favorite colours and is quite similar to the chic phone case designs by Stella Mccartney. The chain detailing gives the case a distinctive texture, which will hopefully make it easier for me to find my phone when I rummage for it in my work bag. It also comes in black and pink.
4. Melt Case by Shopjeen
This case has a melting ice cream effect that will look great against a white iphone. I've seen this type of case around online but this metallic one in particular stood out to me, and would be fun for summer.
I book-marked this case quite a while ago and now of course it's no longer on the
website
. However it has given me an idea to find a case that has a similar print or colours. I've heard that Kate Spade cases are good quality and hard wearing so I may still get one if I can find another design I like.
Which one is your favourite?