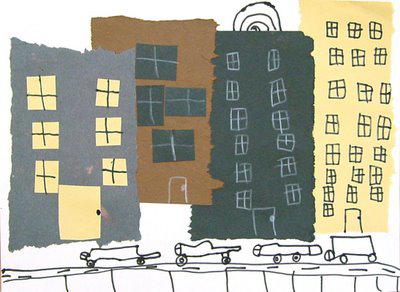 This comes from "The Usborne Book of Art Skills" which has a ton of great art ideas.
1. Begin with a description of neutral colors, which are the only ones used in this collage. Give the studentsa  9" x 12" sheet of white paper and several of neutral construction paper (black, brown, tan, gray, etc.) I demonstrated how to tear straight lines on the construction paper by holding down a ruler and pulling the paper up to control the tear. The students are to make about 4 or 5 various size rectangles "buildings". They arrange and glue as many as they can on the white paper. Space should be left at the bottom for cars and streets.

2. The students may either cut or draw (with neutral colors again, white, black, brown, etc.) windows and doors for their buildings.
3. Lastly, details such as small cars (for scale) may be added. I discouraged drawing signs and people so they would focus on the architecture. Encourage them just to focus on details in their buildings.