Custard or flan is very regular in my home as is pastry pies at any given time. When I first set on to make my own pavlova, I couldn't get egg whites to beat stiff even after a continuous mixing of around 30 minutes (all my fault because I didn't read food processor's manual as much as I should have and used a wrong attachment) and that point I knew I had to give up making a pavlova and proceed with something else. So, the milk was boiled, yolks were added and custard was prepared all within a matter of next one hour. I have an atrocious sweet tooth. Though I didn't had a single craving during the 9 months of pregnancy, that very day I had an awful urge of galloping down a dessert. My family and I simply love the melt-in-mouth texture, sweetness and creaminess of the custard and are totally cajoled by bitter-sweet flavors of the caramel. I have frequently seen my mom cook over a stovetop in a bain-marie on indefinite requests for her signature egg pudding . The rebel that I am, I prefer doing it in an oven applying the same method. Because I have an extraordinary connection with my little piece of electronic, may be?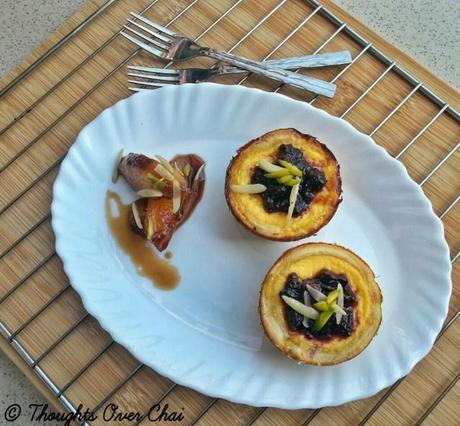 In very early days of our marriage when husband got a pre-packed box of caramel custard, I  literally freaked out. "This is what I made to impress my sponsor before coming to Dubai" he says. At that moment I couldn't control my laughter and he spent another few minutes explaining to me how it is done. That box would still be lying around at some corner of my house, still prettily sealed.  So yes what I am trying to say is, I am kind of obsessed with custards. But one that is made from the scratch.. One that is homemade.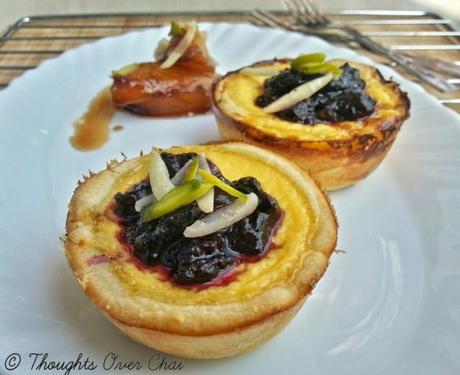 For these custard cups, I took inspiration from a Food Network episode showcasing Asian cuisine that I was watching while also being in the midst of other chores of the house; which is why I didn't pay much attention to the host, name of the show and couldn't follow the exact recipe. But it is largely influenced by what I watched on the television that day and made for my guests one weekend. What's more, they loved and appreciated every bit of the little custard cups with crisp pastry to go with it, if I may say so! Then, I made these again so that I can write about it here and keep creating variations of these on several other occasions.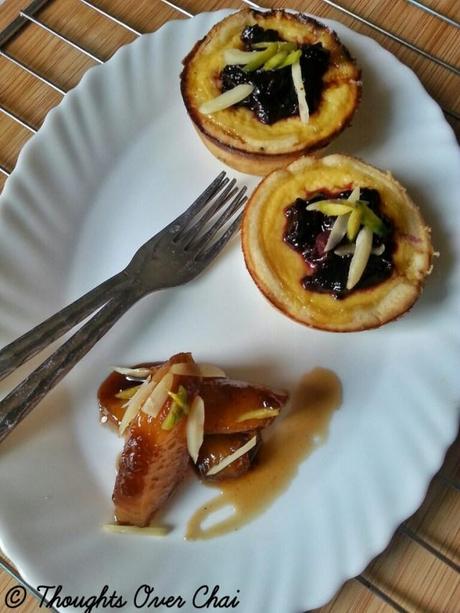 These cute custard cups with blueberry sauce on the top are perfect mini bites; as well as the nectarine compote cooked in rosewater and cinnamon. If you wish, you can omit the nectarine compote part and only make the custard tarts although it's a star! It's an excellent way to end a meal without overdoing on the sweet part since we are so conscious about our sugar consumption these days. Nonetheless, don't you think these will do a splendid job if served at brunch or tea parties too? Don't be intimidated by the steps I have listed down. You can make pastry dough a day before and refrigerate it and other steps are then very easy to follow.
Custard Cups with Blueberry Sauce and Caramalised Rosewater Nectarine Compote
Makes – 10 servings
Ingredients:
For Pastry Dough:
All Purpose Flour – 2 cups
Cold Unsalted Butter – 1 cup, cut into pieces.
Unsalted Butter – 2 tbsp at room temperature, for greasing.
Salt – 1/4 tsp
Ice water – as required, 2-3 tbsp
For Custard :
Whole Milk – 1 1/2 cups
Powdered Sugar – 1/2 cup
Egg Yolks – 2
Egg – 1, large
For Blueberry Sauce:
Blueberries – 1/2 cup
Sugar – 2 tbsp
For Nectarine Compote :
Nectarines – 3, peeled, pitted and sliced.
Rosewater – 1/2 cup
Brown Sugar – 1/2 cup, more or less
Ground Cinnamon – 1 tsp
Method : 
For Pastry : In a food processor, pulse flour and salt. Add in cold butter and pulse until the mixture resembles like crumbs. Lightly sprinkle with very cold water and mix again till the dough comes together. Wrap tightly in a cling film and refrigerate until firm or till further use. Grease the cups of muffin tin with unsalted butter. Roll out the dough on a lightly floured surface and cut out using a round cookie cutter to fit your muffin tin. Press the dough evenly into the edges of each muffin cup. Keep aside.
For Custard : Preheat the oven to 200 Degrees C. In a large bowl, whisk together milk, powdered sugar, egg and yolks until smooth and all combined. Carefully pour this mixture into the muffin cups lined with pastry dough, leaving about little space at the top. Bake for about 15-20 mins until the pastry begins to brown and the filling will be set but still little jiggly at the center. Cool for 15 minutes. Run a knife around the edges and carefully remove the cups from the muffin tray.
For Blueberry Sauce : While the custard is getting cooked in the oven, proceed with blueberry sauce and nectarine compote. In a small saucepan, place blueberries and sugar. Let this cook over a low heat till blueberry starts releasing the juices and is thick. Cool.
For Nectarine Compote : In another saucepan combine rosewater, cinnamon and brown sugar. Add sliced nectarines. Cook over medium heat stirring all the time until the nectarines are soft and rosewater is reduced to 1/4th, around 10 mins. Cool.
For serving, place custard cups on a serving plate/tray and top it with a spoon of blackberry sauce. Serve nectarine compote alogwith the custard cups, separately.