The cushion cut diamond evolved from the old mine cut diamond, but is today's second most popular diamond cut. This gorgeous look combines a square cut (like princess or radiant) with rounded corners, giving it the look of, well – a cushion. This stunning shape popped onto the diamond scene about 200 years ago, and was the go-to diamond shape for its first 100 years of existence. Round brilliants may have ousted this beauty from the top, but the cushion cut now edges closer to being #1 as brides everywhere want cushions.
The traditional cushion cut, like most antique cuts, doesn't have quite the same brilliance as modern cuts do. It's not less-than, just a different look for an engagement ring. The old cushion cut's large culet (the bottom of the diamond) is actually something sought after, rather than a flaw.
While the modern cushion cut diamonds are still slightly less brilliant than modern round brilliants, the difference is negligible and the cushion's distinct shape still makes it highly desirable.  And for what they lack in brilliance, they make up in fire – the rainbow effect that every bride wants as she waves "Hi Haters!" The modern cushion cut looks more similar to a radiant cut (with softened corners, of course) rather than the Old European cut diamonds that the original cushion cuts look like.
Cushion cuts traditional are a square shape, like this: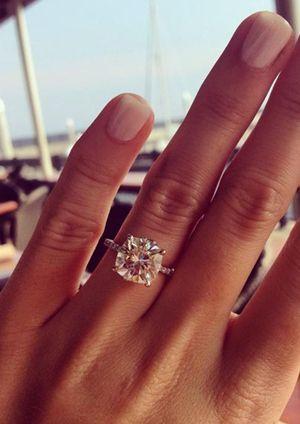 via Pinterest Black Hole
However, the popularity of rectangular cushion cuts – those diamonds with a 1:1.5 or 1:1.2 ratio instead of 1:1 – are also hugely popular. Again, they're closer to the radiant look rather than the traditional cushion. You'll hear terms like "crushed ice" and chunky cushions being tossed around, but really there are only two: the traditional (old mine) cut, and the modern cushion cut. The modern cushion cut's facets aren't easily discernible, making them look more like radiants with that "crushed ice" look. The "chunky" old mine cut clearly presents its clean, easily visible facets.
Because these diamonds are skyrocketing in popularity once more, they're also climbing in price. They're actually more per-carat than a round brilliant diamond! So modern brides have gotten creative, choosing cushion cut halo settings with round brilliant diamond center stones. The effect is gorgeous, and makes the ring look like a cushion cut, while shaving $$ off the bottom line. It's brilliant, if you'll pardon my pun.
So today I've mixed some true cushion cut engagement rings with round brilliant cushion halo engagement rings that give the desired look. They're both fabulous in their own way. Brides everywhere, from the lucky lady whose finance bought her one last week to Kim Kardashian West herself. You can't go wrong with a cushion cut engagement ring!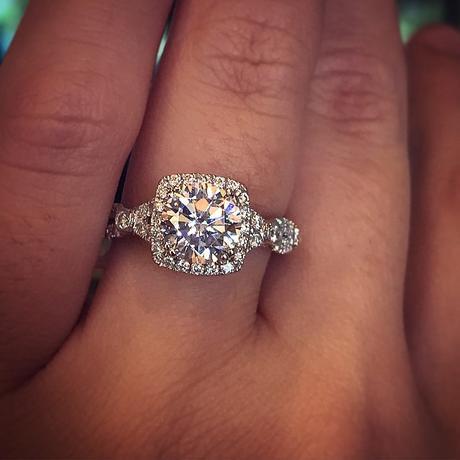 Verragio Insignia cushion shaped halo – Verragio INS-7070CU-GOLD 0.45ctw Diamond Engagement Ring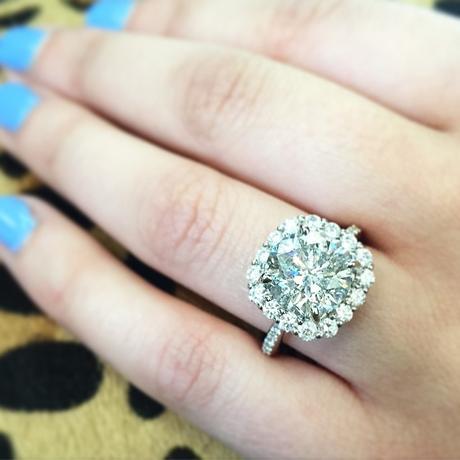 3.84ct Round Brilliant Diamond, Diamond is J in color and SI3 in clarity, with Approximately 0.96ctw Round Diamonds in large halo setting, diamonds are G/H in color and SI in clarity.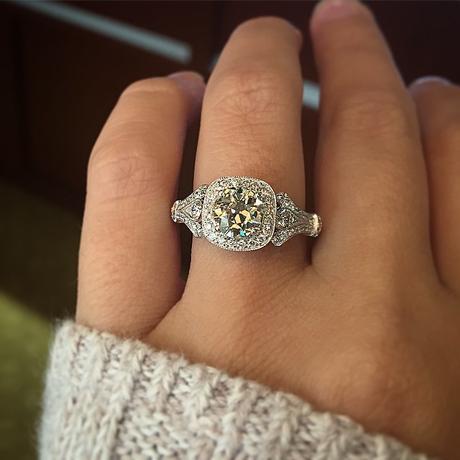 Gabriel NY 14k White Gold Victorian Diamond Cushion Halo Semi Mounting, ER7479W44JJ, Pave Set Diamond Cushion Halo; Victorian Design Band fits a cushion, round, or princess cut diamond.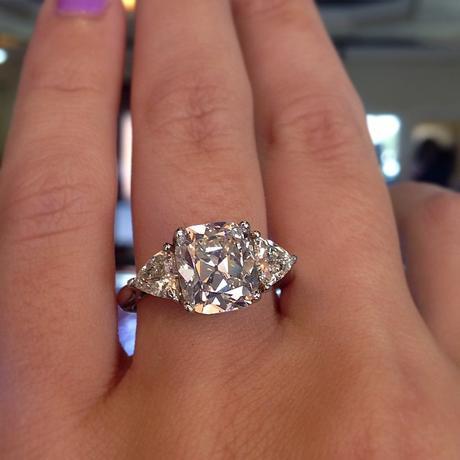 This particular ring sold, but it was an Old mine cut (see that large hole in the middle? That's the enlarged cult) set in platinum with trillion cut diamonds on either side.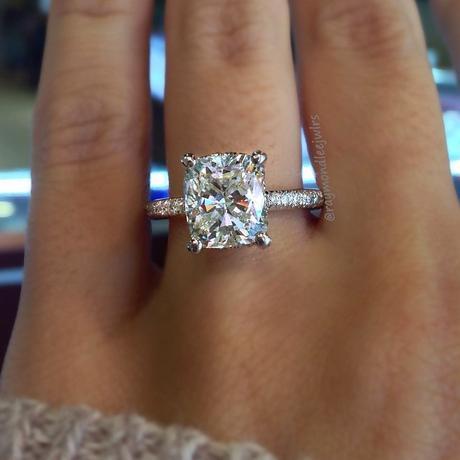 Another beauty that found its forever home on a lucky bride's finger! I like to show them off still, because even though they sold both this ring and the one above are very easy to create again. This was a 3 carat cushion cut more rectangular in shape, with a decent color grade (I believe it was an I or J, it was warm & definitely at the far end of near colorless) and stunning clarity. This ring was about $30,000, but we can do the same look for much less with a different stone.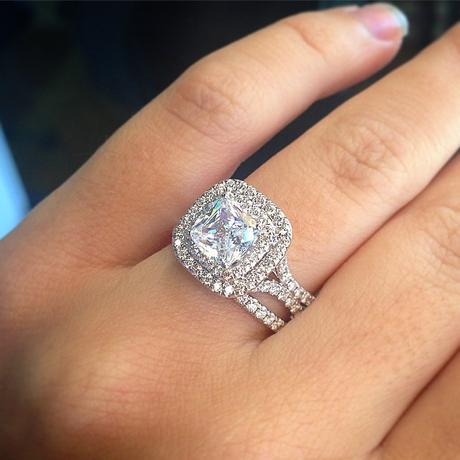 The first of a pair of Uneek's I had to show off – Uneek LVS914 0.65ctw Double Cushion Halo Engagement Ring Semi Mounting with Pave Set Diamond Split Shank and 4 Prong Head.