Any South Indian Cuisine is incomplete without curry leaves. The final garnishing of cooked food is done by adding oil, followed by mustard seeds. After it splutters, curry leaves (chopped onions optional) is added. This method is followed traditionally.
      I just used to wonder, how our ancestors were so brilliant, that even in cooking they inculcated science!!!
      Adding curry leaves reduces the cholesterol, full of iron, improves eyesight. Our ancestors, neither went for special gyms, nor weight-loss programs or weight-loss drinks, instead the day to day activities they followed made them stay healthy and live longer.
KaruveppilaiKarepeku/ KarivepakuKaribevuKareapelaKari patta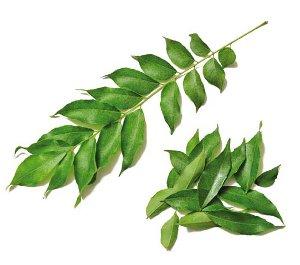 A good remedy for nausea and indigestion. Extract juice of curry leaves, squeeze a lime and add a pinch of sugar.
Chew a few leaves every day to lose weight
 Improves eyesight, so make sure you do not throw away the leaves while eating. It is also believed to prevent cataract.
Good for hair growth and color. Prevents  pre-mature greying of hair.