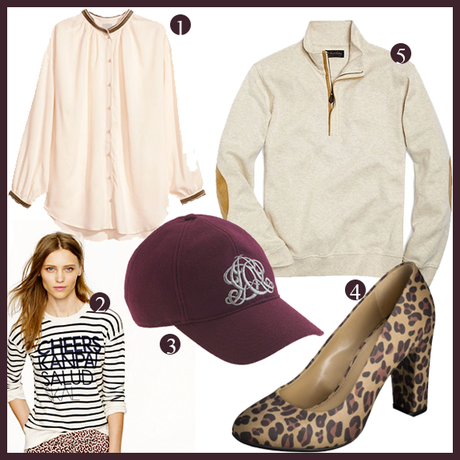 1. Blouse with Beaded Embroidery via H&M  // 2. Vintage Sweatshirt in Cheers via J. Crew  // 3. Embroidered Emblem Baseball Cap in Burgundy // 4. Women's Merona Meg Chunky Heel Pumps - Leopard via Target // 5. Half-Zip Mockneck Jersey via Brooks Brothers
1. This H&M top is a classic piece with its creme color and bead detailing. It's such a minimal statement, that it is able to make a huge statement by itself. Sometimes less really is more! I love the way that the top drapes on the model, flowing and loose, it doesn't cling and make an unflattering shape. 
2. Cheers! Because who doesn't love a reference to raising a glass of champagne in celebration or for any occasion! This J.Crew new arrival is perfect for layering, wearing by itself, mixing with prints...you name it! Saying/ logo sweaters and sweatshirts are huge right now and this sweatshirt is one that will be classic even after the fad fades. 
3. Oxblood everything (or burgundy as they call it) is hot right now! No really...have you seen the other blogs/ stars/ and everyone else?! They're all wearing it! Oxblood in my opinion, is the new black and this is the perfect way to wear it. With a monogram-like emblem, the hat adds the perfect detailing to any outfit while incorporating this season's color! 
4. Jumping on the band wagon with these...but I love the leopard print so much! These appear easy to walk in and add some class to any style whether its dressed up or down. They're the perfect "neutral" to add to your shoe collection. 
5. Anything Brooks Brothers is classic, but this half zip incorporates all things good. Elbow patches, creme color, and heathered, this pullover makes the perfect layering piece for 3 out of 4 seasons a year! During those cold winter days, into the cool march month, it is bound to keep the wearer warm and fabulous! (And its on sale!) 
x0
BCC