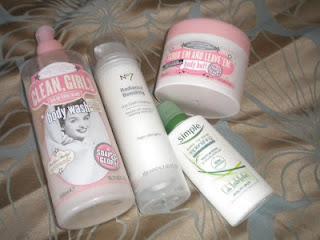 soap and glory clean girls body wash -
such a lovely body wash. so moisturising and creamy! its also got that famous floral yet vanillary soap and glory scent, and when i come out of the shower not only do i feel as soft as a marshmallow, i smell good enough to eat! if i do say so myself hehe
soap and glory scrub em and leave em body scrub -
great stuff! and its not one of those scrubs where you get a little scrubby thing every now and then, and you have to use one for your whole arm (grr.) there's loads of those little scrubby ball things packed into this! it has the same scent as the clean girls body wash, and those two used together are a lethal showering combination - brilliant!
no7 hot cloth cleanser -
i stopped using this for a while, i don't know why, maybe its because i started to get a bit lazy with my skin in the evenings! but lately i've been using it to take off my makeup instead of using a makeup wipe and it leaves my skin feeling so clean and soft. i've been following it up with the clean and clear blackhead clearing daily scrub every evening and it's been doing a lot of good for my skin!
simple rich moisturiser -
i only use this in the mornings under my makeup and its great for that! it's also a good moisturiser! i don't know what else to say about it really hehe but its a fabulous moisturier!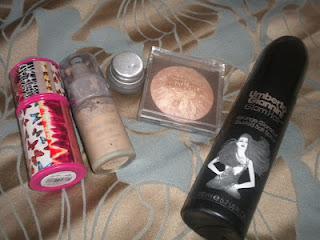 umberto giannini salt spray - review here :)
sleek new skin revive foundation - review here :)
maybelline gel liner -

 i also have a review of this, but it was my first ever post and its quite shocking haha! but its a great gel liner. i don't think there's many good drugstore gel liners out there, but this one is fantastic. stays in place all day and is really pigmented - what else could you want from a gel liner?! highly reccommend this!
prestige higlighter -
i've found that i definitely prefer powder highlighters to liquid ones - i definitely favour this to benefit's highbeam! this is part of my everyday makeup routine (when i actually where makeup) and i use it along the tops of my cheekbones and down my nose. it gives a gorgeous glow to the skin!
sarah jessica parker nyc fragrence -
this really is the most girliest perfume i think i've ever smelt! and it's definitely my favorite perfume. sooo fruity and floral and a great everyday perfume because its not too heavy but i wear it on all occasions!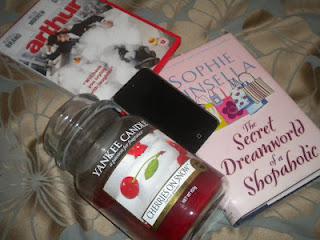 miscellaneous favourites...


cherries on snow yankee candle -

i got this after christmas when all the christmas yankee candles went down to half price. i really like it because its a strong cherry fragrence but not too strong to be unbearable because its got that light, fresh smell which i suppose is the snow! lovely :-)




the shopaholic books -

i've read the shopaholic books before and i absolutely loved them! so much so that i'm reading them a gain! the secret dream world of a shopaholic is the first in the series and i just find them so funny! sophie kinsella is a fabulous author!

i had to stop reading never let me go because i found it so boring - it just dragged on and on! didn't like it at all!


arthur -

this is my absolute favorite film of all time! it has russell brand, helen mirren, jennifer garner and the girl from elf in it, and it's the ultimate feel good comedy film! i think everyone needs to see this its just so great!




my ipod -

i absolutely love music and my ipod must get use atleast 5 times a day so i thought it was worthy to be in my favourites!


thanks for reading! maddie xx