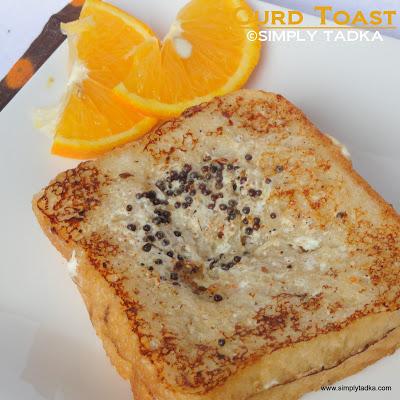 This time I prepared very simple recipe "Curd Toast" with three ingredients as bread, curd and mustard. You have to mix the curd with salt and pepper then cook it on non-stick with butter and mustard. This is very simple and easy to cook recipe which can prepared for breakfast or as a snack. It's really unique in taste but spices like black pepper, chaat masala gives spicy and chatpata taste. You can serve this toast with tea or juice as per your preference. It's very spongy and tasty.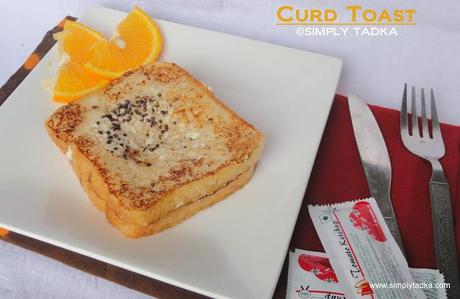 Toast is bread that has been browned by exposure to radiant heat. Toasting warms the bread and makes it firmer, so it holds toppings more securely. Toasting is a common method of makingstalebread morepalatable. Toast is an important component of manybreakfasts, and is also important in some traditionalbland specialty dietsfor people withgastrointestinal problems such asdiarrhea. There are lots of varieties in toasts as Milk toast, French toast, Melba toast, Kaya toast, Texas toast and more.  Preparation Time: 5 Minutes Cooking Time: 10 Minutes Servings: 3 Toasts Ingredients: 3 Bread Slices 1 Cup Curd 2 Tsp. Mustard Seeds 1/2 Tsp. Red Chili Powder (as per Taste) Salt to Taste 1/4 Tsp. Chaat Masala 1/4 Tsp. Black Pepper Powder 1/2 Tsp. Roasted Cumin Powder Clarifying Butter/ Butter for shallow frying Pictorial: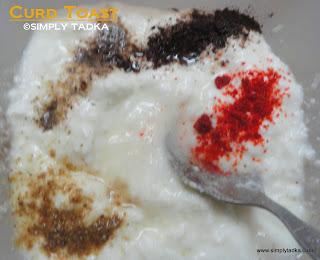 Add spices and curd in bowl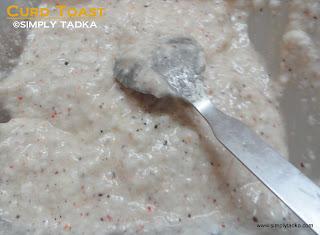 Combine together gently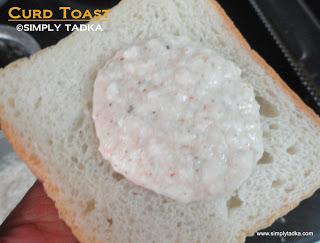 place one tbsp curd on bread slices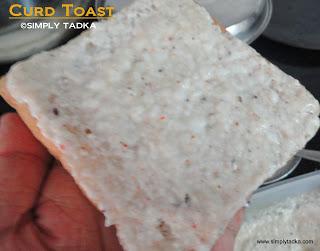 Spread the curd on the bread slice evenly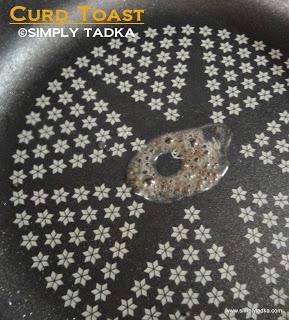 Heat the ghee on pan and add mustard seed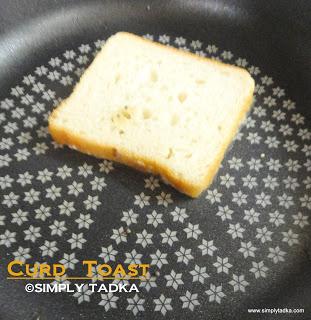 Place the bread on the top of mustard seed from the curd side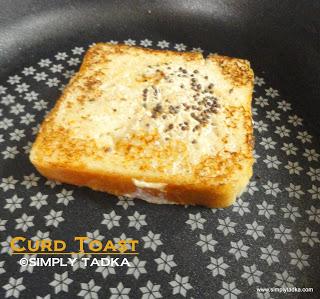 Spread curd another side and flip it and cook till to golden.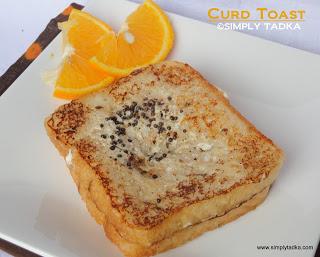 Direction:
Mix the curd and spices together in separate bowl. Keep aside.
Heat the non-stick griddle and spread curd paste on bread.
Grease little butter on the tawa and add mustard seed. 
When they start splutter, place the bread.
Spread the curd on another side and cook from another side too till to golden.
Serve hot curd toast with sauces and juice.
Note: Add the spices or masala according to your taste.
Blogging Marathon page for the other Blogging Marathoners doing BM#30
  Enter your email address:
Delivered by FeedBurner