Cake tasting A-Go-Go
We decided it was time (half past the sprinkle and quarter to the butter creme hour) to visit a fab (ok the BEST) cupcake place in Sarasota, Florida – Cupcakes A-Go-Go. Cupcakes A-Go-Go is located close to the #1 Beach – Siesta Key beach so picking a cupcake up on the way out to the beach is an option.
Cupcake winners
We are always ready to venture out on a cupcake tasting quest and after traveling and visiting many cupcake spots in Florida, Maine and Vermont, the clear cupcake winner so far is Cupcakes A-Go-Go. We love the Yum Yum cupcake truck in O-town as the cupcakes come to us and the guys running the truck are fun and make amazing peanut butter chocolate cupcakes. However, the ladies at Cupcakes A-Go-Go win the award for their base cupcake (all flavors) which is always moist and full of flavor.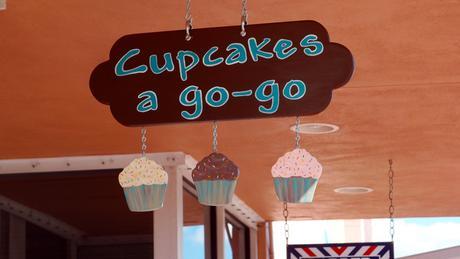 Cupcake secrets
There are some secrets to moist cupcakes, such as using vegetable oil in combination with butter. Including just oil in the batter can make a cupcake rather dense. However, combining a liquid fat with a solid fat increases the potential for moist and airy cupcakes. Try replacing about 1/4 of a cup of the butter with a liquid oil like vegetable or olive oil. Whatever method Cupcakes A-Go-Go uses their cupcakes are delightful and worth maybe a few extra calories. If you plan to visit the Sarasota area or neigboring Siesta Key you can include an afternoon visit to this little cupcake shop
NOTE: Indoor shopping is available across the street at the Southgate shopping center.

More info:
Cupcakes A-go-go
Hours: Tues-Friday 10AM – 5:30PM, Sat. 10AM – 2PM, Closed Sunday
Cuisine: Cake, Menu of cake and icing flavors – YUM!
Delivery: Great idea – locally to Siesta Key, Casey Key, Bradenton, Lakewood Ranch and Sarasota. (Maybe they will get a cupcake truck, that would be nice).
Email: [email protected]
Phone: 941-952-1114
Location: 2079 Siesta Drive, Sarasota, Florida

View Larger Map
Sponsored Links