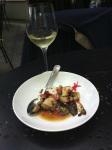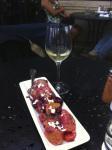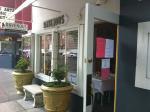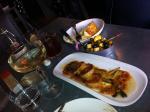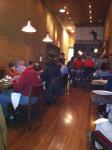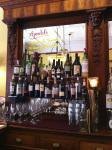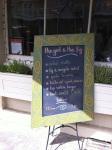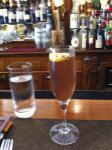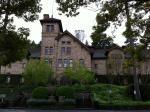 Sonoma requires no culinary interventions, instead boasting an abundance of garden-fresh, locally grown, gorgeously prepared gastronomica served by uber-upbeat staff.
Here's a sampling of binNotes' favorite Sonoma feastables:
Healdsburg, CA:
Willi's Seafood & Raw Bar
403 Healdsburg Ave. | Healdsburg, CA. 95448 |
Winter is NOT coming to this cornerstone in local Stark Restaurant empire's culinary crown. Specializing in fresh seafood, artisan small plates, and a stellar selection of wines by the glass.

Ravenous
117 North St. | Healdsburg, CA. 95448 |
A Lyon-style bijou, this button-size bistro's handwritten fresh sheet changes daily, including affordable house wines by the glass. Santé!

Bravas
420 Center St. | Healdsburg, CA. 95448 |
Ole! The Stark Restaurant empire takes on tapas with finesse and flair. Trademark tasty small plates and unique Spanish wines and sangria by the glass or bottle. binNotes' fave: Tortilla Española – potato omelet with Alioli – ¡Salud¡

Campo Fina
330 Healdsburg Ave. | Healdsburg, CA 95448 |
Unfettered Italian cuisine featuring wood-oven fresh pizzas, plus binNote's personal fave: polenta. Want to bring your own bottle of local wine? No problem – for a $20 corkage fee. Bonus bocce court out back – what's not to love? Salute!

Flying Goat Coffee
419 Center Street | Healdsburg, CA. 95448 |
- Eddie
THE place for a cuppa joe in the morning, brewed on one of two sleek Italian machinas. Add a bevy of hand-baked goods and you have the makings of a perfect morning after a night of overindulgence…

Sonoma, CA:
Girl and the Fig
111 W. Spain St. | Sonoma, CA. 95476 |
Hip, happenin' staff keep the overflow brunch and bar crowd comfortably numb with hand-crafted cocktails and eclectic eats. binNotes' personal fave: Fig Royale…sparlin' good!

For more on Sonoma:
Sonoma: Part 1 of 3: Wine Road of Sonoma
Sonoma: Part 2 of 3: It's Always Sunny in Sonoma
Sonoma: Part 3 of 3: Down in the Valley(s)
More binNotes' Culinary Interventions:
Patina – Los Angeles, CA.
Canlis – Seattle, WA.
Villa Creek – Paso Robles, CA.
Copyrighted 2013. All Rights Reserved.
Follow binNotes: Facebook Twitter Pinterest
Filed under: California Wineries, Foodie, Sonoma, wine bar, Wine Tasting Tagged: blog, food, food reviews, food writing, foodie, lifestyle, northern sonoma county, restaurant reviews, sonoma, sonoma restaurants, sonoma wine, travel, urbanspoon, wine, wine road northern sonoma valley, writing