It is the last day of my week and the weekend is about to start. Friday is the most expected day for almost all, either working, homemakers and kids too. Almost all my fruits are done, waiting for the weekend to purchase fruits and veggies. But still I want my last week day to be hydrated and would like to give a healthy kick start. Remembering the recipe, given by one of my friend, started making Cucumber, Carrot and Tomato Smoothie.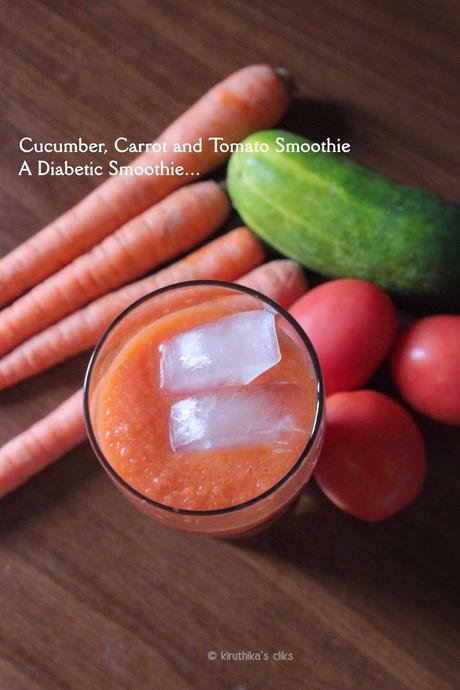 In our homes, we will always have of tomato and carrots available. There is a popular saying that "Tomato is an apple for the poor" and fortunately, "An apple a day keeps the doctor away".  Even though the tomato are not priced high, they have a lot of health supplements in them. It is a 

superfood for diabetes, are packed with vitamin C and are good sources of vitamin A, potassium, and fiber. 

The nutrient lycopene, which gives red tomatoes their color, is a powerful antioxidant. 
                    Cucumber also falls under the superfood for diabetes, also with good source of vitamin K, vitamin C and potassium.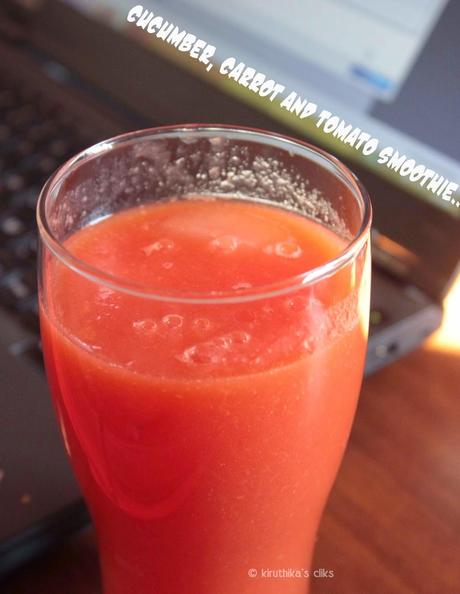 Prep time 15 mins
Cooking time

 Nil
Ingredients
1 number

 Cucumber (Peeled and Chopped) 
2 nos 

Carrot (Chopped) 
2 nos

 Tomatoes (Chopped)
1 pinch 

Salt (optional)
Procedure
1. Wash thoroughly and chop all the ingredients. 
2. If needed peel and chop the ingredients.
3. Then in a blender put the chopped cucumber, carrot and tomatoes and blend them.
4. Transfer it to a container. Add a pinch of salt if needed.
Note:
You can avoid carrot, when serving for diabetic. 
You can add the cucumber without peeling the skin also (if you wish).