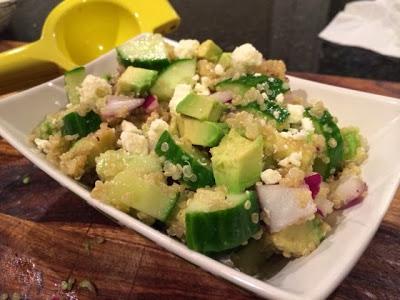 Avocado.Feta.Cucumber=Amazingness
Hooray! My kickboxing Healthy Lifestyle 
challenge 
 is over!I have my final weigh in Friday so I will let you know how much weight I lost! Not that having a healthy lifestyle will fall by the wayside. My friends and I plan on continuing this challenge for the next year. But more importantly I can now have a much deserved glass of wine. I actually missed drinking this month much less than I expected to.As for healthy eating,  I have probably made this salad twice a week during this challenge because it is full of protein, good fats and tastes delicious! Even better, it keeps me full for so long! This salad is so fresh and the textures make it so delicious. Crunchy cucumbers, creamy avocado.... need I say more?Top it all with some salty feta and you have an amazing salad.One serving has about 360 calories. With most of the calories being from the avocado ( good fat!) this salad can't be beat! I had multiple friends try this and they had rave reviews!You can also add chickpeas and even top with Greek yogurt if you would like. Bring on the protein!
Cucumber & Avocado Quinoa Salad
Adapted from Two Peas in Their Pod
Serves 1
Ingredients:
1/4 cup cooked quinoa1/2 avocado, choppedJuice and zest of one lemonsalt & pepper to taste2 teaspoons feta cheese1 teaspoon olive oil1/2 english cucumber chopped1/4 cup red onion chopped1 small chopped jalapeno ( optional)
Ingredients:
1. Boil quinoa to packaged directions. When it is done cooking set aside in a bowl. 2. Zest and juice lemon in a large bowl. Chop cucumber,avocado,onion to bowl.3. Add quinoa, feta,salt,pepper and mix all together.