This Cuban Style Picadillo recipe consists of flavorful ground beef, spices, green olives, and raisins cooked in a delicious tomato sauce. It's the perfect 30 minute meal!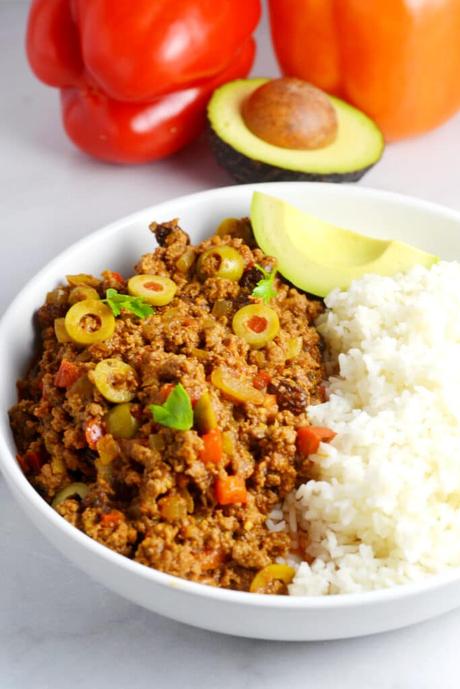 Picadillo is an essential recipe for a Latin kitchen. You can think of it as a Latin style chili with no beans and lots of sabor! It's not only a delicious and fast dinner option, but it's the typical stuffing/filling for many delish Latin dishes like rellenos de papa and empanadas. This Cuban style picadillo recipe is very versatile, and I think it's the perfect combo of sweet and savory. The Cuban flair comes from the addition of plump raisins, which add a chewy sweetness that balances with the tangy olives and savory beef.
The raisins are my husband's favorite part, he just can't get enough of the sweet and salty combo! Picadillo is really a one pot wonder with a ton of flavor, and it's ridiculously easy to make. This is also the perfect recipe to start with if you're looking to dabble with Latin flavors and spices in your kitchen, so go for it!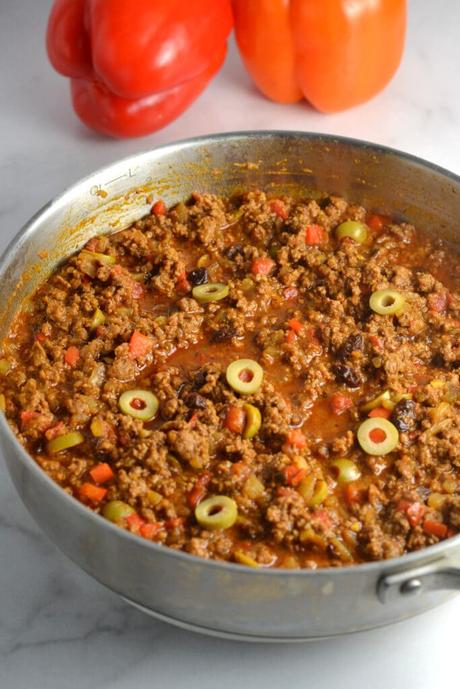 What exactly is Picadillo?
The literal translation of picadillo in English is "all chopped up." Picado means "chopped", so this dish features "chopped up" veggies and meat. Many Latin America countries have their version of this dish. Colombians put it in empanadas. Peruvians put it in papa rellenas. Puerto Ricans put it in empanadas and alcapurria. Each version has it's own unique twist. My mom would add chopped hardboiled eggs. Other people omit the raisins. You can absolutely customize the recipe to your liking.
What Ingredients Are In Cuban Style Picadillo?
Picadillo is usually made up of chopped up meat (usually ground beef), a tomato sauce base, raisins, green olives, lots of spices. While it varies from country to country, this is more of a Cuban style. You can make this dish with ground chicken or turkey if you don't want to use beef.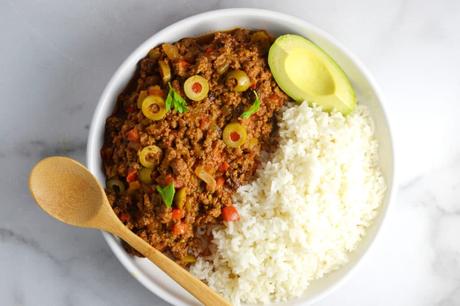 What To Serve With Picadillo?
I think you absolutely have to serve the picadillo with white rice. The rice soaks up the sauce, so it's the perfect match. I also like to serve it with maduros (sweet plantains) or tostones (what is pictured). But you can also use the picadillo to top baked potatoes or sweet potatoes. This filling is perfect for empanadas, as well as my Puerto Rican pastelon recipe.
Check Out These Other Delish D'Lites Recipes!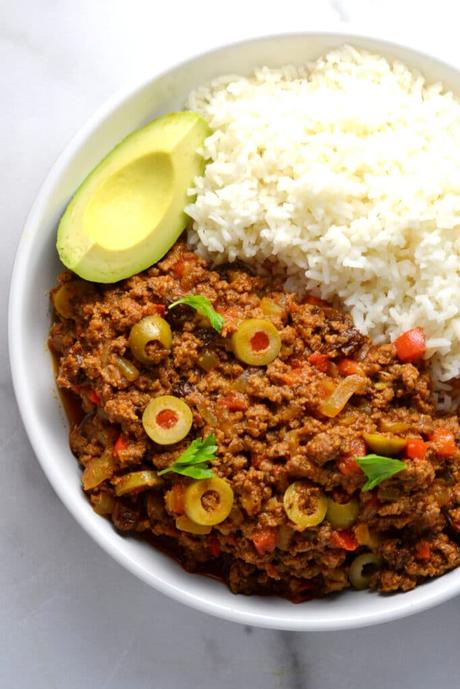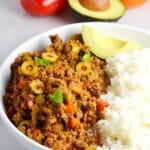 Cuban-Style Picadillo