When I first started thinking about the decor of my reception design, I honestly didn't think I would care that much about all the little details coming together. But as the wedding got closer, the perfectionist bride in me came out and I became obsessed with finding just the right crystal candelabra centerpieces. I quickly learned though how impossible it was to find them. My planner and I scoured the internet for rental companies only to find out either they were in other states that wouldn't rent to Florida, or another company that would rent it but not deliver it to a residence. With the wedding being at my mom's house, obviously this was a problem. The Saturday before our wedding, I finally found a company who had exactly what I was looking for, but I had to buy the centerpieces, not rent them. With the deadline approaching, we decided to go this route. After much anticipation, they finally arrived the Friday morning before our Saturday wedding… and with one glitch… none of them were assembled. My mom had to rally everyone in the neighborhood to sit in her garage and assemble these gorgeous masterpieces.
In the end, they were completely breathtaking and like most things, completely worth the wait. They looked gorgeous in my reception decor and were exactly what was I envisioning. But now, post wedding, I'm stuck with 16 of these beauties and hoping to sell them to another bride or vendor who could benefit from them.
We bought them for $115 a piece, and I'm selling them for $100 a piece (or best offer). Ideally I'm looking for a local buyer in the Northeast Florida area who can pick them up, unless you are willing to pay shipping.
Also, for our reception, I put flower blooms in the arms, but they can also take candles or bulbs.  If you are interested, email me at [email protected]
Here's photos of how they look!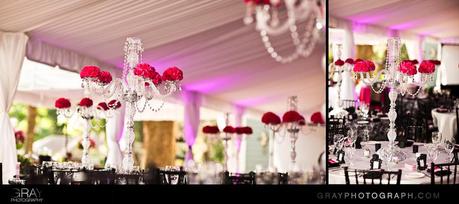 And here's how the description on the website where I bought them from:
Candelabras & Centerpieces THIS MAGNIFICENT CANDELABRA IS ALL 100% CRYSTAL. Nothing is quite as elegant as the fine crystal candelabras that gave sparkle to brilliant evenings at palaces and manor houses across Europe. This beautiful candelabra is decorated with 100% crystal that capture and reflect the light of the candle bulbs, each resting in a scalloped bobache. The crystal glass arms of this wonderful candelabra give it a look of timeless elegance that is sure to lend a special atmosphere anywhere its placed. H.33″ W.17″ 5
Looking forward to hearing from you!  :-)