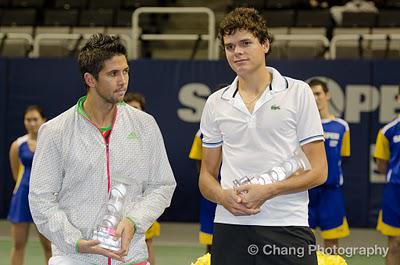 Turns out Fernando Verdasco is a bit of a sore loser. After getting beaten twice in a week by Canadian Milos Raonic, Verdasco claimed that it didn't really matter because it wasn't a "real" tennis match. Here's what cry-baby Verdasco had to say after his loss in Memphis:
"For me that's not a real match in tennis. I hope to play soon against him in clay court to show him what it is to play tennis, and play rallies, and run, and not [just] serve.
"I think he was more lucky than me in the tiebreak. He hit the line at 5-5 with a return and when you are at that point in the match and are lucky to put a ball on the line then you have big options to win the match."
So, I guess Federer is not really that great of a tennis player then, since he only won one of his grand slams on clay. And I guess Rafa's Wimbledon and Australian Open titles don't count for much either.
Oh, and by the way Fernando...you probably don't want to meet Raonic on the clay. He's going to beat you, and then you'll be really embarrassed.