You know how often time desserts or cakes are topped with this light and sugary crumble that people just love to pick off and hog all to themselves? Well we are going to be offering you here our very own recipe for this crumble. It is a lot easier than you think and you can impress your friends with your skill and presentation.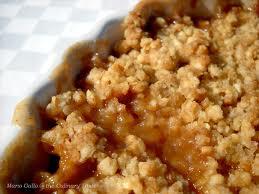 Ingredients:
200g Butter
175g of Brown Sugar
250g of Flour
50g of Almonds
Mix in a machine until it looks like you always dreamed it would...You are probably sitting there thinking, "Oh there must be more, they have to be leaving something out." No will always be the response. Its simple to do but the trick is just taking the time to do it right. People get lazy with baking sometimes but this is something small people can do that will take their simple cake from "Mmm" to "Wow!"
Go ahead make some crumble...all the cool kids are doing it.