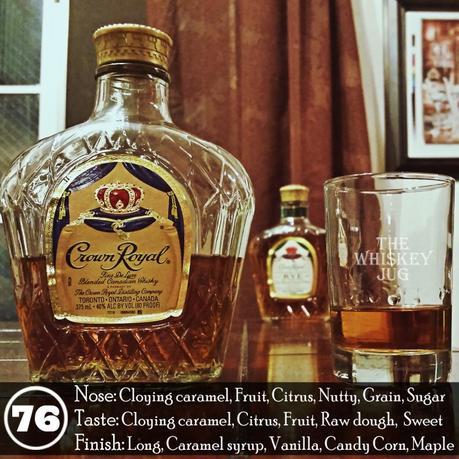 Crown Royal was among the first whiskies I drank. The bottle looked impressive at parties in college and it made a nice shooting companion next to the obligatory Jack and Jim. Plus we thought the signature purple bag was petty "on fleek" as I hear the kids say today and we used them for everything one could think of. My favorite was to hold my gaming dice (yes I'm a gaming geek too), but we also used them to hold laundry quarters, as chalk bags when we went rock climbing in the wilds of Wyoming or spare spikes, studs and band patches for our jackets.
Seagram's first introduced Crown Royal in 1939 to celebrate King George VI and Queen Elizabeth visiting Canada and it remained a Canadian only product until 1964. The beverage giant Diageo acquired the Crown Royal brand in 2000 when Seagram's was dissolved and since then there have been numerous versions and variations of the original released. Like most Canadian whisky it's a blend of different grain whiskies of various ages.
Crown Royal Info
Region: Manitoba, Canada
Distiller: Crown Royal
Age: NAS
ABV: 40%
Price: $24 (750 ml)
Crown Royal Review
EYE
Med caramel
NOSE
Cloying caramel, light fruit, light citrus and a light nuttiness create the initial aroma on this light whisky. Some light notes of raw grain, brown sugar and an ethereal vanilla bring up the rear. The whole thing gets topped off with a funky raw note that makes me wonder what the ratio of young to old whisky is in here.
PALATE
Cloying caramel, citrus, vanilla, fruit and a doughy caky quality mix and mingle with a watery sweetness and maple syrup while a brooding raw grain haunts the background.
FINISH
Caramel syrup, vanilla, candy corn, watery maple and raw grain bleed out in a long slow finish that turns cloying.
BALANCE, BODY & FEEL
Balance isn't that great; feels like it's lacking in the cohesion department. Medium body and a soft watery texture with only a minor burn.
OVERALL
I haven't had Crown Royal in about 5 years but after the recent tastes of the Northern Harvest Rye and Hand Selected Barrel I thought I'd pop on down to a shop I know carries the 375s for cheap and give it a try… kinda wish I didn't. The standard release doesn't have the amazing complexity and deep robust flavors of the Hand Selected, nor does it have any of the approachable subtle notes of the Harvest Rye. It does work well in cocktails, but unfortunately my "21 year old" memories seem to be a bit more fond of this than my 34 year old senses are of this one.
SCORE: 76/100