…Sshhhh, don't tell….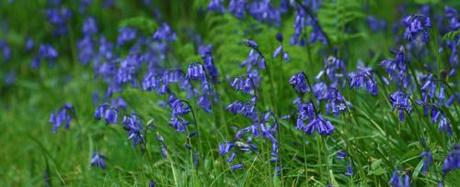 Last weekend I went to visit a hidden little corner of Cornwall, and I've been trying to decide whether to tell. It was a secret and magical place, and the only human  tiptoeing through was me…
But…I visited because I am writing a book about the wildlife and nature of the River Fal, and the Fal flows right through it, so at some point I hope to be sharing the wonder of…Crowhill Valley Woods. This Woodland Trust-owned woodland, part of a Site of Special Scientific Interest near Grampound and an important area of Alder sump woodland, is not that easy to find. Read this entry from the Woodland Trust's 'Visit Woods' site to find out how some visitors spent a long time tracking it down! I was fortunate enough to have spoken to someone from the Trust in advance, so I knew where I was going. And here's what I found…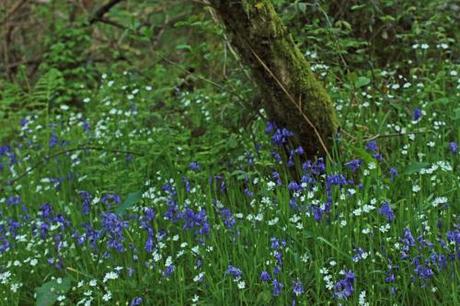 Beautiful bluebells and Greater Stitchwort, companions beneath the trees (photo credit: Amanda Scott)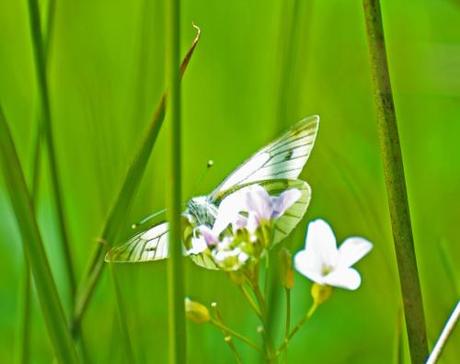 A Green-veined White butterfly visiting Cuckoo-flower, one of its caterpillar food plants (photo credit: Amanda Scott)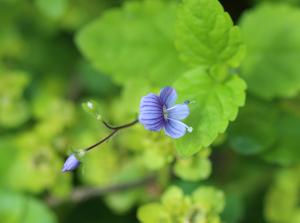 A delicate flower of Wood Speedwell (photo credit: Amanda Scott)
The flora was wonderful, and there will be more to come. This is somewhere to visit time and time again. Hemlock Water Dropwort was leafy and green, its umbels of flowers waiting to unfurl. Tiny flowers of Wood Speedwell poked through the undergrowth. Lesser Celandine and the improbably-named Opposite-leaved Golden-saxifrage contributed notes of yellow to the Bluebell-blue, Stitchwort-white and leaf-green hues of the woodland.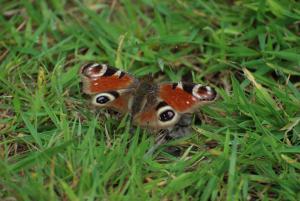 Peacock butterfly (photo credit: Amanda Scott)
There was also birdsong to die for, and I realised (once again) that it was high time I learned bird calls. In a wood, birds are, in contrast to good Victorian children, heard but seldom seen. There are many flurries through the leaves, rustles and darting flights, but the birds don't hang around to be looked at. Nonetheless, I saw a Blackcap, a Songthrush, Wood Pigeon and several Blackbirds (plus a few small indeterminate brown ones). Bees and other insects were also buzzing – the highlight was a Beautiful Demoiselle damselfly, an immature male, presumably newly emerged, but there were also Green-veined White and Peacock butterflies a-plenty.
So, I suppose I should be recommending you visit this special place yourselves. And I do, of course. Just remember, sshhh, keep it secret!!!