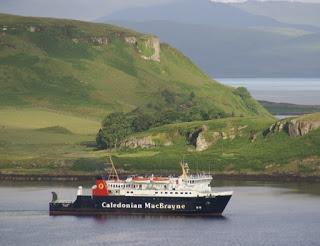 Sailing was not my favorite method of transport. Years ago I would feel queasy on my father's cabin cruiser, moored at the side of Lancaster Canal, especially when a passing boat sent ripples through the water. The memory has never left me, but as my desire to visit the Outer Hebrides grew, and the only practical way to do it was to take the car, it was 'let's go for it, I'll cope'. And cope I did, but there wasn't a problem. The first time we went, we pre-booked our crossings with Caledonian MacBrayne on a Hopscotch ticket and sailed from the mainland to Skye, then Skye to Benbecula, North Uist to the Isle of Harris and the Isle of Lewis back to the mainland. We crossed different waters and they were short journeys. I was very happy to be sailing comfortably. We stayed in some amazing places and tried to pack as much sight-seeing in as possible. We drove south as far as Eriskay, a tiny island reached by a causeway from the end of South Uist. Unfortunately we missed out the Isle of Barra. We couldn't schedule it in, but it was a perfect reason to return the following year.
I couldn't wait to get back to the wonder of the Outer Hebrides. It's like being in another world, even another planet; it's so different from anywhere. We were only going to the Isle of Barra, not touring like before, but we needed the car and our dog would be with us so we chose the most direct route. We would sail from Oban to Castlebay, Barra. It was a journey of over five hours, but I had confidence from the last time. It would be fine. We arranged an overnight stop near Glasgow before a long drive to Oban for a lunch-time ferry. It was mid-May, warm and sunny, the beginning of last summer's glorious weather. I looked forward to boat trips around the small islands close to Barra.
After the many crossings we did the year before, we had ferry travel off to a fine art and chose our seats by the windows in a dog-friendly area close to a café. We settled down for the long trip.The beginning of the voyage was slow and gentle through the Sound of Mull. I hoped to get photographs of Tobermory as we passed the Isle of Mull before sailing into open water. Being out at sea, away from the shelter of the Inner Hebrides, was very unpleasant for me. The water was choppy, the ferry rose and fell like a slow roller-coaster. I couldn't stand up, I would surely fall. Our poor spaniel whimpered and sat on my husband's knee like Scooby-Doo. I spent hours bent forward, staring at the floor, feeling unwell.I was so glad to reach Castlebay.
The experience of that crossing put me off any idea of island boat trips. We were halfway through our stay before I felt better, then I began to worry about the ferry back to the Scottish mainland.
Sailing back to Oban was fine, I needn't have worried, but I'm back to square one. Sailing is not my favorite method of transport.
I think I'll manage the Orkneys, but Shetland will have to be a flight and a hire car.  
I've chosen Robert Louis Stevenson's version,
Over the Sea to Skye
Sing me a song of a lad that is gone,
Say, could that lad be I?
Merry of soul, he sailed on a day
Over the sea to Skye
Mull was astern, Rum was on port,
Eigg on the starboard bow.
Glory of youth glowed in his soul,
Where is that glory now?
Give me again all that was there,
Give me the sun that shone.
Give me the eyes, give me the soul,
Give me the lad that's gone.
Billow and breeze, islands and seas,
Mountains of rain and sun;
All that was good, all that was fair,
All that was me is gone.
   Robert Louis Stevenson (1850 - 1894)
Thanks for reading, Pam x  
Email This
BlogThis!
Share to Twitter
Share to Facebook
Reactions: