The Ne York Philharmonic Acquires Two Met Principal Players.
by Paul J. Pelkonen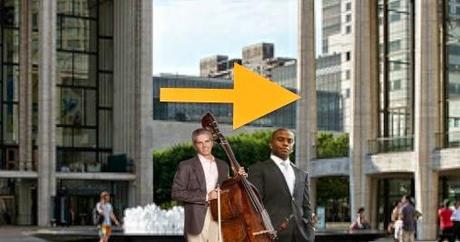 Bassist Timothy Cobb (left) and clarinetist Anthony McGill have left the
Metropolitan Opera to join the New York Philharmonic. Photoshop by the author. 
Two principal musicians of the Metropolitan Opera's orchestra are leaving the opera company and crossing Lincoln Center Plaza to join the New York Philharmonic.
The New York Philharmonic announced yesterday that clarinetist Anthony McGill and bassist Timothy Cobb have accepted principal positions with their orchestra, filling two important and vacant positions with the historic ensemble. The defection of Mr. McGill and Mr. Cobb comes as union talks between the Metropolitan Opera and the members of its orchestra are heating up.
The news comes just three days after the musicians (billed as the MET Orchestra) played the final performance of the 2013-14 season at Carnegie Hall. That concert was the orchestra's last performance under its current union contract.
Earlier this week, the opera company made its first offer to the union, including unspecified cuts to the players' salaries. In response, the members of the orchestra (who are represented by Local 802 of the American Federation of Musicians) voted to authorize a strike if the talks collapse. At Sunday's concert at Carnegie Hall, the orchestra played while wearing union buttons.
Starting in September of 2014, Mr. McGill will take the position of Principal Clarinet, a chair once held by the legendary Stanley Drucker. He became a member of the MET Orchestra in 2004. Mr. Cobb will become the new Principal Bass, effective May 15. Mr. Cobb also serves as principal bass for the Mostly Mozart Orchestra. He had played with the Met since 1989.
The departure of Mr. McGill and Mr. Cobb comes as the Metropolitan Opera management commences negotiations with members of its orchestra. The Met is also in negotiations with 15 other labor unions, including AGMA (the singers, dancers and chorus) and Local 1 (the stagehands.) A lockout by management, or strike by any of those labor organizations could threaten the company's plans for a 2014-2015 season. All 16 contracts are up on July 31.
A spokesman for the Met said that the talks with the orchestra have "only just begun."