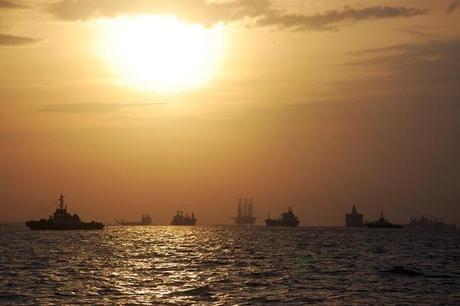 Singapore sits at the pointy southern end of the Malay peninsula. Less than nine nautical miles of water separate the island nation from Indonesia to the south, and a much narrower band divides it from Malaysia to the north. It's a smaller margin all the time, based on the land reclamation projects we saw. Even our 2011 charts weren't current, and we passed multiple stages of different land-add projects underway- including land masses which were not yet noted on our two-year-old charts. Singapore's expansion plans are sufficient for neighboring countries to have banned the sale of marine sand used in the projects.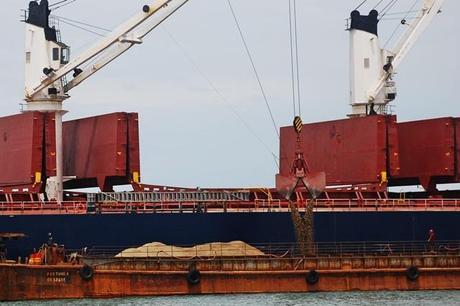 I should back up and point out that we didn't plan to cross Singapore. We planned to stop in, and visit for a few days. However, the Republic requires boats entering to have an "AIS transponder installed and operational." We have a receiver, but not a transponder, so that left us out. Hey, we'd love a transponder, but they weren't legal for private pleasure craft to purchase when we got our AIS gear in 2008, and it's kind of an expensive upgrade! It turns out there is a back-door way around this that local clubs will facilitate, but at the time, the information we had was the response from the port quoted above, and it is quite unambiguous. We'll do the wink-and-nod version on our way back south, now that we know the secret handshake.
Meanwhile, we had a country to get across, so we lined up at an anchorage at the east side of Singapore with the goal of a single-day run from Malaysia to Malaysia, with a glimpse of the nation-city between. It started easily enough. Blue skies, accurate charts, gentle breezes.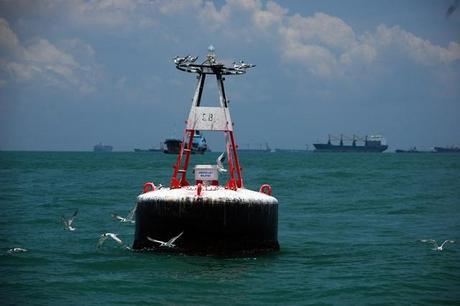 Then the odd fishing flag started to pop up. These are the flags on a pole about 2 meters long, identifying ONE end of a long net. The game, when you're in a boat, is to figure out which way the net goes- so you don't end up massively fouled in it. Then, we saw another... and another... and another. In shipping lanes, even! Huh? I'd have pictures, but I was too busy spotting.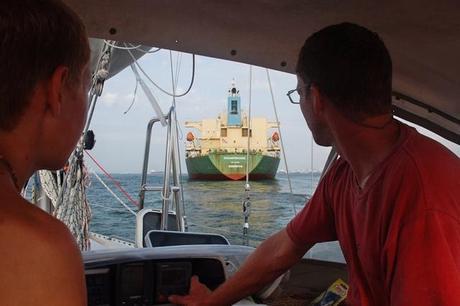 Mostly, it was just very, very crowded. We got into the groove, but constant vigilance to the speed and trajectory of nearby boats was necessary. Totem is just a speck next to most of them, and mass wins!



Fun fact: our AIS receiver peaked at 887 ships in our immediate area. Thankfully, many of these are at anchor or moored, but it is a massive amount of traffic and pretty stressful.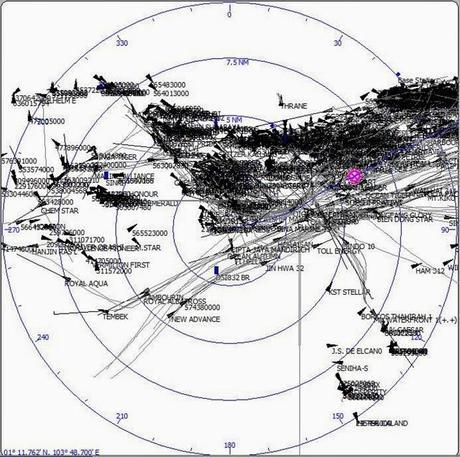 There was a startling range of ship types, from the small fishing boats to big car carriers and massive tankers. Turns out there's a name for the supertankers built to the maximum size that will fit through the straits: the Malaccamax. The constraint is depth; 25 meters (82 feet). They're used for carrying crude from the middle east to China.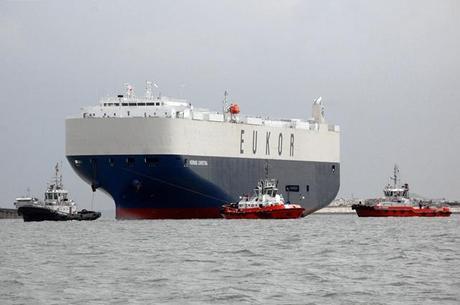 We were lucky with the current, and were able to make nearly the entire distance with neutral or favorable current. There was a brief stint of foul, but mostly it was one to two knots of push, the whole way around. You can time these things but it was luck, really, to have the daylight hours transit line up so nicely... and put us safely inside Puteri Harbor well before sunset.