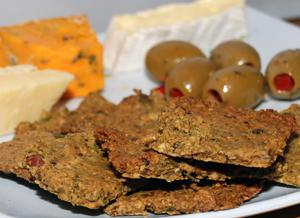 These crackers are completely gluten-free – made from almond flour, chopped walnuts, sunflower and pumpkin seeds. They are satisfyingly crispy and perfect with cheese! The texture is quite good – not crumbly.
Total preparation time is about 10 minutes, plus 20 minutes baking time.
Total 5.3g net carbs per 100g
680 calories, 60g fat, 24g protein

Ingredients:
1 cup almond flour (80g)
1 cup chopped walnuts (100g)
1/2 cup sunflower seeds (70g)
1/2 cup pumpkin seeds (70g)
3 egg whites
40g butter, melted
3-4 stalks of rosemary (or any other herb to your taste)
1 tsp baking soda
1 tsp salt
Method:
Preheat the oven to 190C/375F/Gas Mark 5.
Blitz walnuts and seeds in a blender a bit, until coarsely powdered.
Mix blended walnuts and seeds with almond flour, baking soda and salt.
Lightly whisk egg whites and mix with melted butter.
Tear off rosemary leaves and chop them up a bit.
Mix all ingredients together.
Get two sheets of baking paper, same size as your baking tray.
Lay your mixture on one sheet of the paper, cover with the second sheet, and roll the mixture out.
You want the mixture to be very thin: 3-5mm or so. I had to use 2 baking trays for the amounts above.
Remove the top sheet of baking paper, leaving just the first sheet with the mixture spread out on top.
Make lines in the rolled out dough with a knife or a stick, to separate it into individual crackers.
Stick in the oven and bake for about 20 minutes, or until golden and crispy.
Nutritional information:
In total, using the amounts above:
per total (380g), using the amounts above: 2590 cal, 20g net carbs, 227g fat, 91g protein
per 100 grams of the mixture: 680 cal, 5.3g net carbs, 60g fat, 24g protein
per 1 cracker (8g), assuming 48 crackers are made from the amounts above:
54 cal, 0.4 net carbs, 5g fat, 2g protein