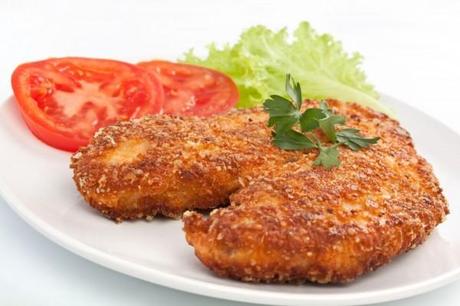 Pork is a delicacy in many parts of the world. There are different ways of cooking it as and how people in a certain country prefer to relish it. Pork is relished in various combinations too. Baked, cooked, fried, or even roasted pork is eaten with great taste in many parts. Of those, one of the most popular combinations all over the world is baked pork with parmesan cheese.
Below are two simple and easy recipes that gives this combination a different taste altogether.
Baking pork with parmesan and egg
The first is combining parmesan cheese with crisply baked pork. For this what you need along with pork pieces and parmesan cheese are flour, garlic, cayenne, parsley leaves, mustard, celery seed, pepper, three eggs and bread crumbs.
Since we are talking about baked pork, we do not need oil but all you need to do is preheat oven to 425 degrees.  Take a baking sheet and place a rack on it. Meanwhile you will have to prepare two mixtures ready. First, take around one fourth cup all purpose flour, and to it, add cayenne, salt and pepper as per taste, and mix it well after adding garlic powder. Keep it aside. Take a small bowl and break one whole egg into it, both yolk and white and add the white of the other egg. Also add mustard and mix it well. The third mixture that you need will have panko, parmesan cheese, oil and parsley leaves.
Now take the cut pork pieces and first dip it in the first mixture, then in the second one and finally in the third. Then place it on the rack and bake it in oven for 30 minutes. Serve after it cools for a while. Now isn't that a delicious baked pork with parmesan cheese?
Baking pork with parmesan with Italian seasoning
This is such a simple recipe, that all you need is just 10 minutes to prepare it. What you need is one egg, and of course, pork and parmesan cheese. You will also need salt and pepper for taste. The specialty of this dish is you also need Italian seasoned bread crumbs.  This is the highlight of the dish.
While you prepare the oven to 450 degrees, keep an oiled baking tray ready.  Mix the bread crumbs with grated cheese well. Beat the egg in a bowl. Dip the pork pieces first in egg and then in the mixture. Place the well dipped pork pieces on the tray and sprinkled salt and pepper.  Bake it for 30 minutes. That's all. Your baked pork with parmesan cheese and Italian seasoning is ready to consume.
A well accepted combination
Pork and Parmesan is a well relished combination. You can try in by applying your own personal touch to it. Go, invent a recipe!