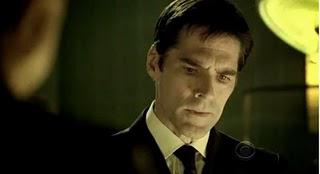 Original Air Date: 28 September 2011
Storyline: The BAU team searches rural Oklahoma when women are being found murdered after being robbed of one of their five senses. Also, JJ and Prentiss get the cold shoulder from Reid as he deals with their deception about Prentiss' presumed death.
Trivia: The song heard in the final scene in Rossi's kitchen was "Mambo Italiano" by Dean Martin.
Best Quote:

J.J.

: You're mad that Hotch and I controlled our micro-expressions at the hospital and you weren't able to detect our deception. 




Reid

: You think this is about my profiling skills? Look, Jennifer, the only reason you were able to manage my perceptions is because I trusted you. I came to your house for ten weeks in a row crying over losing a friend and not once did you have the decency to tell me the truth. 




J.J.

: I couldn't. 




Reid

: You couldn't, or you wouldn't?


Intro: "If it is a miracle, any sort of evidence will answer. But if it is a fact, proof is necessary." Mark Twain. (Reid)Outro: Scott Adams wrote, "Nothing inspires forgiveness quite like revenge." (Rossi)Review: I've read a couple of reviews saying that this episode of Criminal Minds was more violent than usual. I don't agree with that. This show has always been about gruesome crimes, more than any other similar procedural on TV. Maybe the summer hiatus made some people soft...

Anyways, let's get back to "Proof". After a season premiere centered on Prentiss' return and the conclusion of the Ian Doyle arc, we're back to normal - whatever normal means in the lives of seven people who deal with violence on a daily basis. The BAU investigates the murder of three teenagers with similar physicality, all found dressed in '80s clothing and their senses destroyed with sulfuric acid.

The unsub is someone you wouldn't expect to be able to hurt a fly. However, looks can be deceiving and behind his smiling warm appearance hides a very disturbed man whose obsession for his brother's wife led him to killing girls with similar features.

Other than Tracy Middendorf, whose performance did not convince me (did it ever?), the supporting cast was great. 

Weeds alum Andy Miller is one of the creepiest murderers this show has ever featured. He does an awesome job portraying mentally challenged, homeless Cy, who is so skilled in using his condition in order to deceive people that not even his closest family figured out that he has a violent trait. As for David Starzyk, he was very compelling in the scene where Matt watches the video of his daughter being tortured.

However, what I most liked about this episode was that it continued to show us the reactions following Prentiss' return. As expected, the most affected by this is Reid who, despite having grown a lot in the last season, is still the youngest and most emotional of them all. I've always liked the relationship between JJ and Reid and it's this one that the episode focuses on. Yes, he's acting out, as JJ says, but he

 feels betrayed by the person he most trusts and there's a lot of tension between the two of them. I felt his response to Hotch telling him that he is the one he should be mad at concisely explains his feelings: "I can't. I didn't come to your house crying for 10 weeks."But the highlight scene for me was Rossi getting mad at Garcia's cooking ("Tofu? I give you my recipe and you do an improv? Maybe you should show a Disney film and stick with burgers."); their pasta banter was hilarious and I'm glad to see this show is not letting the darkness take over and squeezes in such warm moments. As for the ending, I felt it was a bit forced. But then again, it was fun watching Rossi put his Italian background to good use and explain to people that pasta needs to be cooked al dente.Criminal Minds 7x01: It Takes a Village Back to Season 7