Today, everything is about Halloween, one of the scariest night of the year. While you are getting ready for the Halloween party, have fun playing some of these terrifying games for iOS devices!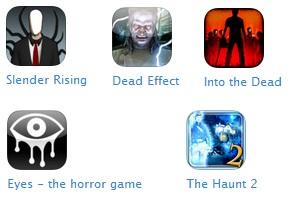 Popular Halloween iOS Games
1). Slender Rising- One of the best games for iOS. It is so scary, it will give you nightmares.
2). Dead Effect- Kill the zombies as a first person Sci-Fi shooter. Playing this game on Halloween will bring you a frightening experience.
3). Into The Dead- This is a free iOS game, where you struggle to survive in the middle of a zombie Apocalypse.
4). Eyes – the horror game that walks you through a haunted abandoned house while you collect money bags. Around every corner there is a terrible threat that you should avoid at all costs. Beware of those eyes on the wall …
5). The Haunt 2 - Ghosts are dotted around the countryside as you try to solve a series of confusing games. You have to look for clues and carefully make your way around the dark and mysterious villages.