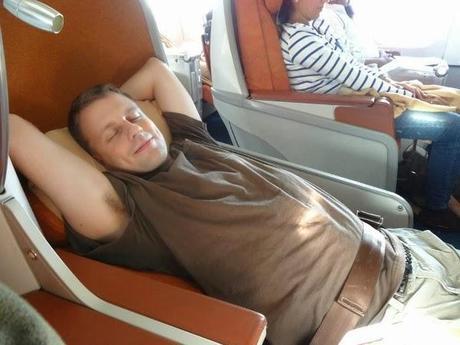 Before leaving for our long-term trip, we opened up two Chase United and one Chase Sapphire credit cards in order to have several free and upgraded flights during our travels.
We spent several months using the cards to meet the minimum spending limits to get the sign-up bonuses, and even used the Chase affiliated cards as our primary cards leading up to the trip to rack up a substantial amount of points. 
But does opening three credit cards, each with a $95/year annual fee, really
save
you money on a long-term trip? 
Let's find out.
How Our Points Run Turned Out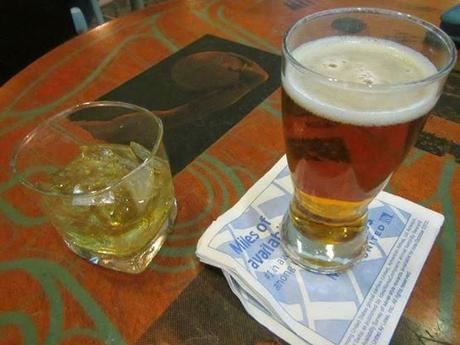 During our 465 day adventure around the world, we redeemed 230,000 credit card points for four flights each (8 total).  Two were long-haul flights in business class and two were for much shorter flights that were abnormally expensive to purchase on our own.  In addition, I redeemed the last of our airline points (60,000) to purchase a single round-trip ticket from Dayton, Ohio, to Paris, France, as a stop-over on my way to a conference in Sri Lanka.
Like our analysis into our Hilton credit card points redemption, we need to go into some detail to determine whether or not United cards are worth your time on a long-term trip.
A summary of our flights can be found below.  Each flight is listed with the points we spent for the booking, the value we received, and the savings offset we enjoyed: 
Business Class on United from Dayton, Ohio to Paris, France (layover Newark)

Cost: $10 and 100,000 miles (2 tickets).
Value: $9,000
Savings Offset: $2,190

Business Class on United from Johannesburg, South Africa to Buenos Aires, Argentina (layover Sao Paulo, Brazil)

Cost: $107 and 90,000 miles (2 tickets).
Value: $5,736
Savings Offset: $1,227

Economy Class on United from Cartagena, Colombia to San Jose, Costa Rica (layover Panama City)

Cost: $293.50 and 20,000 miles (2 tickets).
Value: $1,176
Savings Offset:  $882.50

Economy Class on United from San Jose, Costa Rica to Cancun, Mexico (layover Panama City)

Cost: $68.00 and 20,000 miles (2 tickets).
Value: $1,012
Savings Offset: $944

Economy Class on United round-trip Dayton, Ohio to Paris, France (layover Newark)

Cost: $100 and 60,000 miles (1 ticket)
Value: $1,037
Savings Offset: $937
The first figure worth noting here is the value.  We received just under $18,000 in airlines travel by using our credit cards!  But instead of using that number to wow you and entice you to open airline branded credit cards, we have to be honest:
we would never have paid that figure ourselves on this past trip
.
Looking at the True Savings Figure
As with everything when it comes to redeeming points for premium tickets, the flights we would have paid for on this itinerary would have been in economy class.  So to really judge these credit cards, we're going to have to compare them to these prices in the form of our "savings offset."
How do the cards help with
the money we would have otherwise had to spend
?
In the end we estimate our true savings offset to be $6,180.
Compared to $855 in fees for having the cards open for three years, which is still less than half of what two one-way tickets to Paris would have cost us, you still have a pretty nice savings that could be put towards several days of additional travel.
Although in this case we have to be a bit honest.  Had we not opened our credit card to amass almost 300,000 in airline miles, we would not have planned our route the way we did.  We would not have added on that quick stop-over to Costa Rica (in fact, we only did so because we found out we only needed a paltry 10,000 miles for those segments), and I also probably would not have chosen to attend the conference in Sri Lanka (and thus require my third trip to Paris).
In this case the fact that we had the points had a
major influence
on our itinerary.
Even so, the fact that we could get a significant amount of our flights for less than the cost of a one-way trans-Atlantic crossing says a lot, and really prevented us from looking at the alternatives (such as RTW tickets) from the start.
Are Airline Cards Worth It?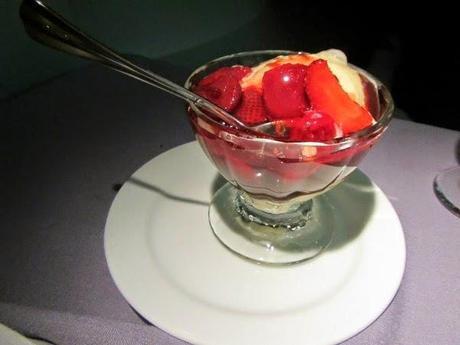 When it comes to opening up credit cards to accrue points for long-term travel, airline cards are a slam dunk.  The reason for this is because you only need half the points when flying on one-way tickets!   For those on long-term trips this is a dream come true as one-way tickets can sometimes cost
more
than a round-trip ticket itself.
With 40,000 to 60,000 reward points available as sign-up bonuses for many cards in the USA, just one card could net:
four to six short-haul flights at 10,000 points each.
one to two international flights in Economy class at 30,000 points each.
one international flight in Business class at 45,000 to 60,000 points (depending on segment).
As international flights can cost as much as $1,500 or more on a one-way ticket, spending $95 to open a card starts racking up some serious savings.  It should be no surprise that us opening
three cards
allowed us to save a lot of money on some pretty incredible flights.
What Are We Doing With Our Cards Now?
Now that our airline miles are used up, you may be wondering what we're doing with the credit cards.  Unless you plan to keep using one of the cards as your primary to bring in points, it is silly to keep extra cards that have annual fees.  In our case we have
three United affiliated cards
that we had to decide what to do with and if it is really worth it to keep them since they all charge $95/year.
In the end, we decided to cancel my Chase Sapphire card.  Although the card itself is extremely cool and makes you feel powerful using it (it is metal and much thicker than a regular card), there are no perks attached.  Why pay $95/year for nothing? 
It's got to go
.
For our Chase United cards, which we both have, we decided to keep them for now.  The $95/year fee for both cards is worth it to us to keep the annual lounge pass allotment (2 each- $100 value), extra saver rates for booking reward flights, plus free checked bags on flights in the USA.  Throw in double miles on all United flights (per dollar spent on the ticket cost) and you have some pretty solid perks worth the fee.
Have you ever opened airline credit cards to rack up points to travel?  If so, let us know what you did by commenting below!   Looking for information on our hotel points run with Hilton credit cards?  Click here to read more!