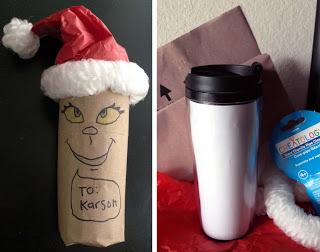 I'm still playing with those Giant Chenille Pipecleaners I bought from Michaels, and found they make a very cute quickie hat if you have anything round to wrap for the holidays.
1. This was even easier than it looks as almost everything twists together. I cut a rectangle of red tissue that was wide enough to wrap around the package and taped it in place.
2. Cut a length of pipecleaner that has just an inch or so of overlap and twist in place.
3. Twist the top of the tissue together, cut a small piece of pipe cleaner and twist over it to make a small ball.
4. Drawing a grinch face is totally optional. Who wouldn't like a Santa hat on the gift they get?