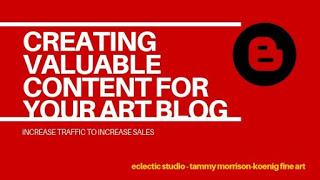 A few artists are very good at blogging – I am not. I get overwhelmed by creating valuable content, how often to blog, and whether blogging can be effective for artists.
When we look at creating content we need to first identify:
What is the objective of an artist blog?
I am sure that every artist has unique objectives, but I can almost guarantee we are all blogging to create an online presence and drive traffic to our art websites so we can land a sale. When developing content we should keep in mind that y
our online art gallery is a place to showcase your art, but your artist blog makes it easy for people to find you in Google's search.
Put your time and effort into what will help you to reach your unique goals.
If your goal is to sell art prints, put your effort into what will help you to sell more art prints.
If your goal is to sell a watercolor painting, put your effort into strategies that will help you to sell your watercolor painting.
If your goals are to increase your art sales develop a strategy that will help you to increase the traffic to your art listings.
Hands down my artist blog and Pinterest drive the most traffic to my artwork. Facebook, Twitter, and YouTube do not even come close.
If you do not rank higher than the top art websites in Google's search you are handing over them the sales.
Remember Quality Over Quantity
A quality post does not mean that it is the longest post.

A quality post is filled with valuable information.

A quality post is easy to read and understand.

A quality post gives you the answers you are searching for.

A quality post supports the headline of the post.
Best Writing Practices
Write like you are talking to a person.

Keep your posts easy to read and understand.

Only say what you are trying to get across.

Structure your post, so it will be easy to read.

Respect your reader's time.
What it really boils down to is you need to connect with your audience on an authentic and personal level while sharing information connected to why they came to your site in the first place, your craft. It's that simple. Content crafted with nothing but fluff and keywords written by people who know nothing about the industry, your product, or your audience is not only ineffective, it's poison.