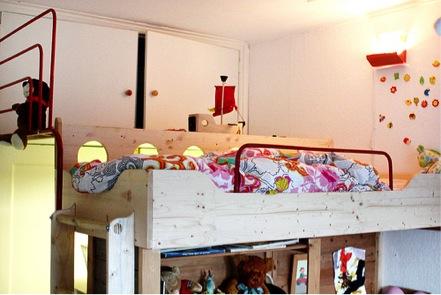 Image suzettesuzette
When you have children, you'll know from an early age that they have their own ideas about things, and one of the best places for them to stamp their identity is in their bedroom. Of course, you might have to guide them to ensure that they make good decisions, but if you can allow them some influence and choice in how their bedroom looks, they'll love it even more.
A child's room isn't just a place to sleep. It's their own personal kingdom, where they relax and spend time alone reading books or have their friends to come and play with them. So it's great if you can decorate and furnish it in a way that they will like.
Changing the furniture in a bedroom can be a costly business though, so if you can pick some big items of furniture that you don't need to change each time your child feels like giving their room a makeover, then so much the better. There's a great article where

GLTC reviews it's kid's furniture range

and there are pieces of furniture there that are real classics, which would suit a two year old as much as a 14 year old.
Unless money's no object, you're probably best avoiding novelty beds like racing cars or fairy castles. These won't last a child that long and they may suddenly go off whatever theme you've chosen for them and then it's going to cost you much more to update their room.
The Emma range at GLTC is manufactured out of strong beech and MDF, so it's built to last and as it's finished in a chalk white, it will fit in well with any colour scheme. The furniture in the Emma range is all full-size, so the bed would be just as suitable for a toddler as for a teen, and the wardrobe has enough room to cope with a girl's expanding collection of clothes as she gets older. The bed in the range can also have a trundle bed underneath it – which is perfect for those times that they have a friend to sleep over.
As well as the main pieces of furniture, it's the little things that you choose that can really add personality to a room. These include bedding linen and accessories like cushions and rugs. Of course, the great thing about these items is that you can buy the ones you child wants when they're two or three, and then change them as their tastes change. They might go through a pink princess phase and then have a change of heart and want everything to be in blues and greens, for example.
Children are fickle creatures and they're likely to want to change their room around a few times during their childhood at least. If you've got the basics in place, though, allowing them to change the theme with different accessories every now and then shouldn't be too costly.

Like me On Facebook - Follow me on Twitter - Follow on Bloglovin'