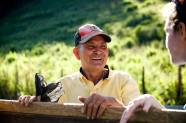 You know that feeling you get at your local farmer's market? You come home with great produce, a connection to the grower, and trust in the quality of the food. The only problem is not all of the food we love can be grown where we live. Newly B Certified Liga Masiva has a solution: build a global farmers market to connect consumers directly to farmers growing coffee, mangos, and other much-loved products.
When Liga Masiva started their direct buying relationship with organic coffee farmers in the Dominican Republic, they put several key components in place. By cutting out the many middlemen that existed between farmer and consumer, Liga Masiva pays farmers more than 200% what they previously earned. Farmers also receive training to improve their growing practices to suit the consumer's needs. There was still one remaining challenge, though. Individual farmers lacked upfront capital to jumpstart their crops and pay their workers.  In response, Liga Masiva formed a microloan program. Though considered a risk by many, the program has proven successful and the first round of loans have already met their deadlines and been paid back in full. One explanation: because both their buying and the loans are based on relationships, there is a mutual commitment to the success and expansion of the program. In other words, the farmers are as committed to Liga Masiva's work as the Liga Masiva team is.
Liga Masiva's direct approach to solving environmental and social issues, such as agricultural production and poverty, led naturally to B Corporation Certification. In fact, they had certification in mind even before their 2010 incorporation. According to co-founder Emily Kerr, the B Corp business model acted as a guide to incorporate their values into their practices and corporate structure from the beginning. This made their 2011 certification easy.
As they grow Liga Masiva hopes to add more products from the Dominican Republic and expand throughout the Caribbean, and Central and South America. Expanding their farmers market will connect customers with more farmers: a win-win for everybody. The farmers receive fair pay for their labor and customers, in turn, enjoy a wider variety of quality products.
Learn more about directly traded coffee and better know Liga Masiva.