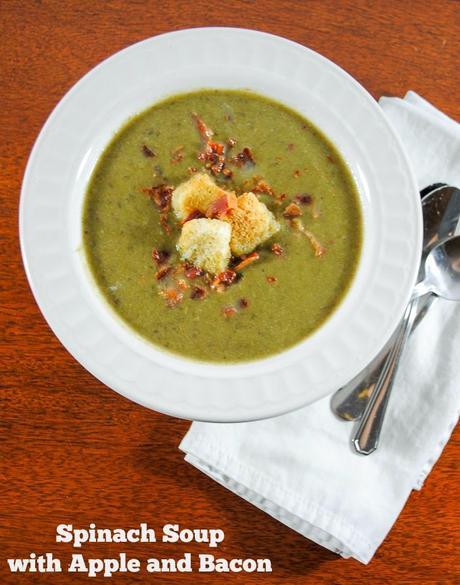 Spinach, apple and bacon. What an interesting combination for a soup recipe, wouldn't you agree?
If you have The Flavor Bible at your fingertips, you might not be surprised at this ingredient list. The Flavor Bible isn't a cookbook, it's a resource of foods that compliment each other, and my go-to for the ingredients in this luscious spinach soup.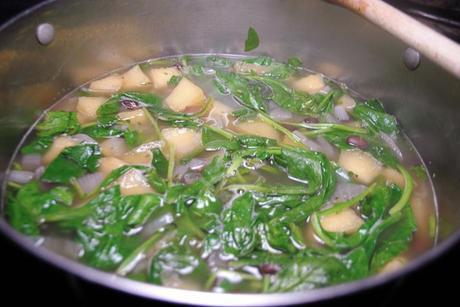 I admit I was dubious when I started cooking onions, apples and bay leaves in a pot. But it wasn't long before the sweet aroma of cooking apples filled my kitchen, and I started to think I might be on to something with this spinach soup.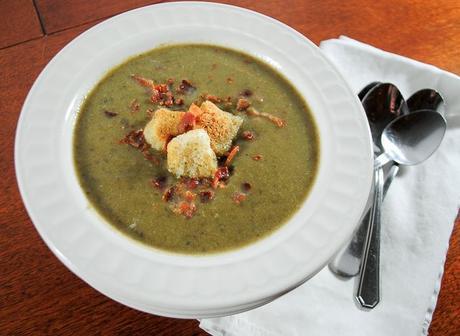 After the addition of spinach, fresh thyme and black beans (any type of bean would work, I just had black beans on hand), and a simmer in the pot to wilt the spinach, my immersion blender makes quick work of pureeing my Kitchen Bible creation.
If you're wondering why the use of beans, it's because I can skip the heavy creams, and still end up with a smooth and silky soup.
Not to mention, the added fiber. Something us weight watchers are always looking for in recipes.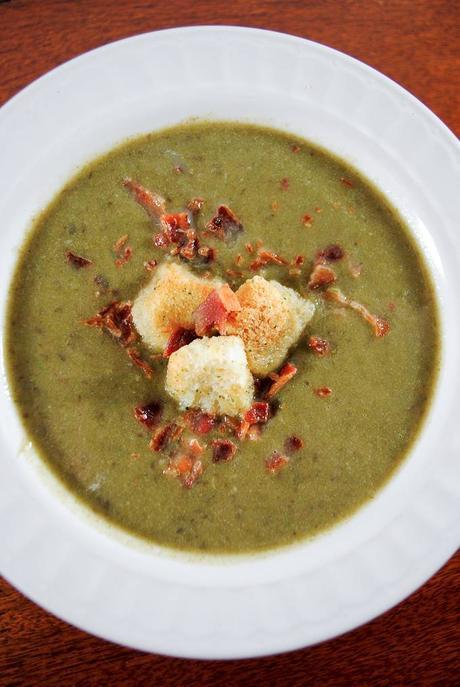 I admit, crumbles of smoky bacon and a few croutons are a must-have addition.
Together, they add appeal to the presentation of this spinach soup. Apple and bacon have an affinity all their own that elevates the flavor, taking our soup from bland, to smoky deliciousness.

Creamy Spinach and Apple Soup with Croutons and Bacon Crumbles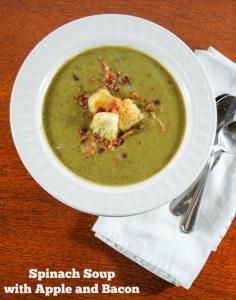 1 cup onion, chopped
2 medium apples , cored and chopped into smaller pieces
2 cups water
2 large bay leaves
¼ teaspoon salt
2 cups black beans
1 tablespoon fresh thyme, minced
6 cups spinach
8 tablespoons real bacon bits
8 tablespoons croutons
Heat a large saucepan over medium high heat with onion, apples, 4 cups water, bay leaves, and salt. Bring to a boil and cook for 15 minutes until apples and onion are tender. Remove from heat and discard bay leaves.
Add 2 cups water, beans, thyme, and spinach.
Place saucepan back on the heat and bring to a boil and cook for another 10 - 15 minutes until spinach is wilted and very tender.
Depending on how hot your stove is, you may need to add a bit more water, or if your soup is too thin, continue to boil until the mixture reduces to a soup-like consistency.
Remove the pan from the heat and puree in batches in a blender, or leave in the pan and use an immersion blender (my favorite tool).
Top soup with croutons and bacon bits.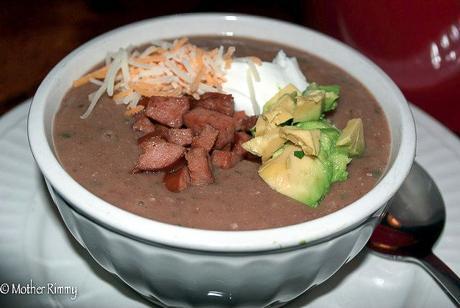 If you're looking for more examples of how to use beans in your soup recipes, this Spicy Mexican Red Bean soup is a real crowd pleaser. Most people love Mexican spices, so you can't go wrong.