Leftovers... *sigh*  If my boyfriend weren't around - or if my buddies and I didn't get drunk and become human garbage disposals on a weekly basis - my fridge would be one mess of leftovers-turned-moldy-grossness. Instead of getting sick of the same ol' same ol', I've become a big fan of the practice of turning leftovers into entirely new dishes. It takes a bit of thinking outside the box to find new ways to revamp last night's meal into today's nom noms. The other day I made a whole roast chicken, baby baked potatoes and gravy from pan drippings. For dessert we had a slice of chocolate cake with homemade whipped cream. It was yummy and we could have had it again the following night (sans potatoes and cake - those go quickly) but I had some time, so I decided to get creative.
I  made chicken enchiladas using the following: leftover meat from the roast chicken, chicken stock from the gravy, cream from the whipped cream and sour cream from the potatoes.
Here's how I managed to pull it off and nearly clean out the fridge: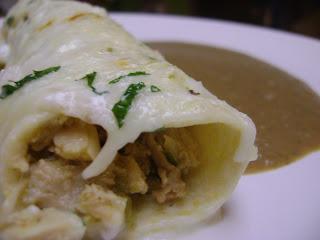 what you'll need for 4 large enchiladas:
4 medium-sized tortillas (corn or flour- your choice) if you use corn tortillas give them a quick bath in hot oil, enough so they absorb the oil, but not enough to fry them

Shredded chicken - I picked apart the leftover whole chicken minus the two breasts (which means dark meat! Woot woot!) Be sure to pick the meat clean, discarding any gristle and skin.
1/2 can whole green chiles - chopped


1 fresh jalapeno - chopped
 2 big fat handfuls of shredded pepper jack cheese
a dash of cayenne 
a dash of paprika
1 chopped onion
handful of cilantro - chopped
1/2 cup chicken stock
Enchilada (sour cream) Sauce:
1/4 cup sour cream
1 tbsp. butter
1 tbsp. flour
1 cup heavy cream (ooh!) or milk (eh...) 
Refried Bean Puree:


 1 can refried beans
cilantro
2 smashed garlic cloves
1/2 can green chiles
a couple turns of fresh ground pepper
about 1/4 cup chicken stock
First things first. Let's get the side dish out of the way.  Set up your food processor and plop in all of the ingredients for the refried bean puree.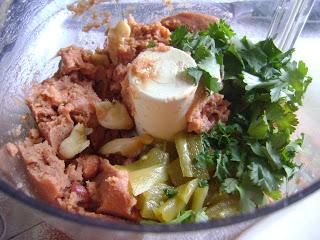 Slowly add the chicken broth while pulsing - just a table spoon or so at a time until the puree is nice and smooth.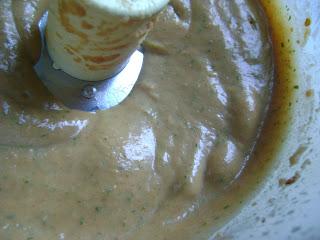 Pour the puree into a sauce pan and simmer the beans on low while you set up the rest of your dinner.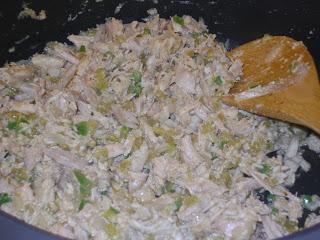 (While excusing the terrible lighting in this picture,) heat a tsp. of olive oil and sweat (cook over low heat for about 8 minutes) half your chopped onion in a large skillet. Once your onions become translucent,  turn up the heat to medium. Add your chicken, chilies, jalapeno, cayenne, paprika and chicken stock, then give it all a stir. Simmer it all together to incorporate all the yummy goodness.  Set aside.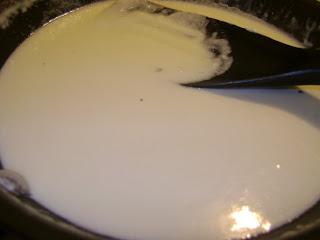 In another sauce pan add your butter and flour. Stir and simmer over medium heat (this is called a roux - equal parts fat and flour that make a paste). Once you've made a nice thickener, slowly - no more than 1/4 cup at a time - add in your cream and chicken stock and keep stirring. Allow the sauce to bubble, but not burn! Once it becomes thicker and reduces a bit you can add the sour cream. Just keep stirring, just keep stirring... Turn the burner to low and let the sauce hang out while you assemble your enchiladas.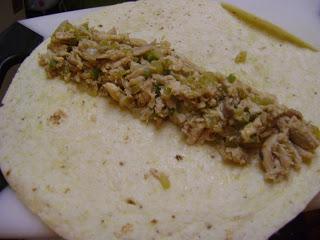 Heat your broiler. Place a heaping spoonful and a half of your chicken mixture down the length of your tortillas.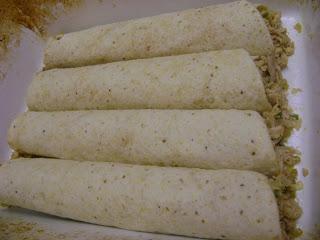 Roll them up and set them seam-side down in a casserole- or oven-safe dish.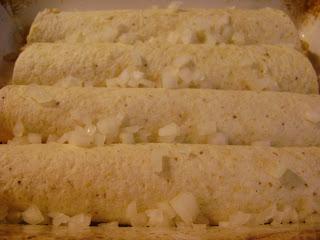 top the rolled enchiladas with the other half of the chopped onion.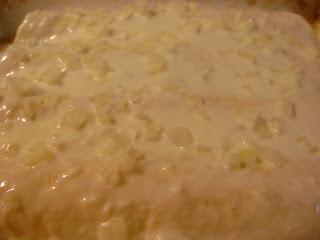 Drown your enchiladas in the creamy awesome sauce.

Top with cheese, covering every nook and cranny. Broil the dish until your cheese is completely melted, gooey and just browning. Remove from the oven and top with chopped cilantro.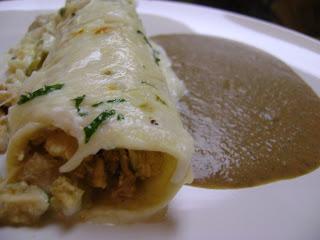 Serve a single enchilada with a generous dollop of the refried bean puree.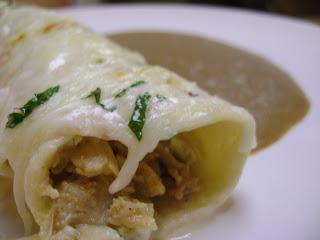 That's it! Nice and easy. You can make your mix and sauce in advance and reheat once everyone's  arrived. Try different variations of the sauce by adding more sauteed veggies or stuff the enchiladas with sauteed veggies and top it off with a thick ground meat sauce! This is a perfect "go-to" meal for leftovers. Have fun with it and enjoy!