This is awesome sauce at its finest.
 It's creamy (awesome), it's cheesy (awesome), it's herbacious (awesome), it's salty (awesome), it's easy (awesome) and it's boozy (awesome). This is one of the most versatile sauces around. Today I'm showing you awesome sauce with pan-seared chicken, but the possibilities are endless! This sauce compliments any type of meat or seafood and would be great in a potato or veggie casserole topped with buttery crumbs. You can top off roasted vegetables with it, make an eggs benedict-style breakfast and use a dollop in lieu of Hollandaise sauce. Prepare a little extra and serve this exact recipe over bow tie pasta (Farfalle). Really you can just pour it in the palm of your hand and lap it up for a snack..no? That's not okay? Fine then! Do what you want, these are only suggestions. 
From kitchen to table within a half hour, this is a great easy meal. When you make extra, it's tonight's dinner and even tomorrow's lunch... All within 30 minutes! You can't beat that with a bat.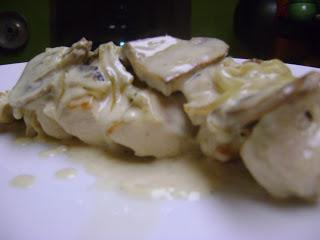 Things you will need to make four servings:
4 boneless skinless chicken breasts (one per person)

 1/2 an onion, thinly sliced




1 clove garlic - chopped

1 pack mushrooms- sliced

1 cup heavy cream

1/2 cup white wine (I used a California Chardonnay)
Optional (but I wouldn't mention it if I didn't think you needed it):
yummy BREAD! baguette or sourdough for dipping

More wine (because you always need more wine)
With no further ado, lets get this dish started.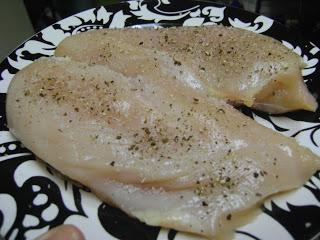 Season your chicken breasts with salt and pepper. Heat a pan to high with a tablespoon of olive oil. Brown each breast until the outsides are nice and crispy, like so: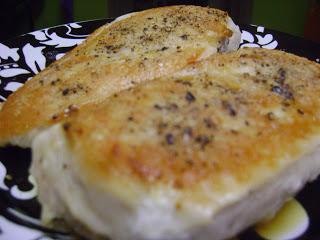 Set your chicken aside to rest. (It's tired...)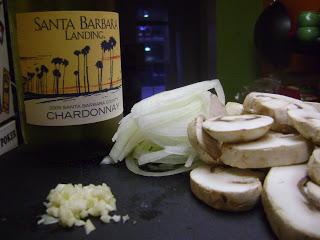 Slice your mushrooms, onion, and garlic.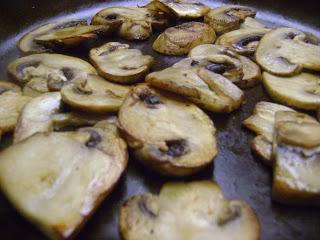 In the pan with the chicken drippings, brown sliced mushrooms over high heat, stirring occasionally. Then set them aside.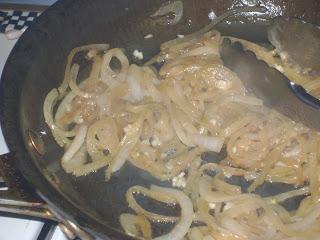 Reduce the heat to low then add a tablespoon of butter and the onions. Sweat your onions for about 8 minutes. Once your onions are translucent, stir in your garlic and cook until tender.
Add your onion mixture to your mushrooms.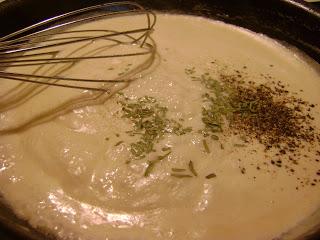 In the same pan that has been collecting all your flavors, add two tablespoons of butter and flour over low heat. Whisk away any lumps, then add your heavy cream. Whisk whisk whisk and - just as your sauce starts thickening - add the wine. Whisk whisk whisk then add your tarragon, pepper, and Boursin cheese. Whisk whisk whisk until everything is fully incorporated. 
Turn your burner off.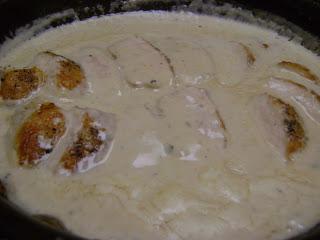 Now that your chicken has had plenty of time to rest, slice it up and let it marinate in the sauce while you prepare your side dish of choice (we're having a simple mixed green salad with balsamic vinegar and olive oil)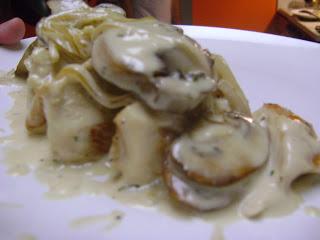 Set your chicken up on your serving dish, top it off with your onion and mushroom mixture, then a heaping spoonful of your creamy white wine Boursin sauce.

Enjoy your nom noms with a hunk of fresh bread to sop up all of the awesome sauce! 

Bon appetit!