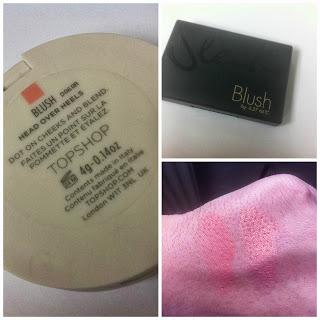 Hello everyone! 
Today I have a comparison post for you with two blushes I purchased recently. I have just started to use blush and I am beginning to find out what works for me. I purchased two blushers, to help me find what is best for my skin tone and texture. The first blush I have is the Head Over Heels cream blush from Topshop. This is a very bright blush, that appears bubble-gum pink on first impressions but blends out beautifully. The texture of this blush is amazing, its so creamy and easy to blend, it sits lovely on your skin and compliments pale skin tones. I picked this blush up for £6 in my local Topshop. I have since seen the blush mentioned in various magazines. I love the packaging of this blush, the front has the signature Topshop polka-dot pattern and inside it comes with a compact mirror. 
After purchasing a cream blush, I decided I would pick up an alternative. I was in Superdrug and picked up the famous Rose Gold Blush by Sleek. This blush has been highly raved through YouTube and in the blogging world. As you can see from the swatch (R), this blush is very pigmented and has a lot of shimmer through it. I have to say, I am not as impressed as I expected. This blush is far too shiny for my skin, it just doesn't look right and makes my face appear glittery. I can use this blush as a slight highlight but it is still packs a little too much shimmer for me. Unlike the Topshop blush I am unable to blend the Rose Gold out at all without it looking as if I have smudged it across my cheeks. This blush also comes with the compact mirror. I picked this up in Superdrug for £4.99, I think I will go back and pick up some of the matte blush shades from Sleek. Sleek are one of my favorite brands, although this is one product I can say I most definitely don't like and will not repurchase. 
Overall the cream blush wins me over, this is my first cream blush and I am in love! I will be repurchasing some of the different shades from the online site. I am still hoping that I will find a Sleek shade that I fall in love with, as I do love the brand. Unfortunately this one didn't strike gold with me!
Can you recommend a Sleek blusher?
Thanks for reading, keep smiling!

xx